Linseed oil is an unsaturated oil which is composed of fatty acids. By letting the oil react with lye a natural soap is created: Polarsken linseed oil soap. In Sweden this pure product is considered to be the best solution for cleaning surfaces to be painted, especially wood, which is treated with linseed oil before painting. It is also known as Golvsåpa (which means 'floor soap'). An ecological paint cleaner with a long tradition.
For all wood; impregnated, planed or painted, including stone floors.
Polarsken wood soap is great for cleaning wood panels, wooden floors and porous (terracotta, sandstone) and non-porous stone (granite, ceramics). The soap removes dirt, while leaving a thin layer of linseed oil on the floor which nurtures the surface and prevents dirt from encrusting. Polarsken wood soap is specially adapted for lye and oil treated wood. It gently cleanses the floor and provides extra protection and a pleasant surface.
Order linseed oil soap here
The soap it also very suitable for wood preservation
You can also use the soap for excellent wood preservation. For example, indoor furniture and wooden floors lend themselves very well for this. The wood bleaches somewhat and gets a very beautiful shade. A 'såpat' soaped floor gives an old-fashioned and natural patina.
Actually, the wood is very mildly treated with lye, because the soap solution is mildly alkaline. This process is somewhat laborious because it needs to be repeated and maintained, but it's worth it. Just treat the wood 3 to 5 times with this soapy water, let it dry and you are ready.
Linseed oil soap was widely used in the past, and produced by soap houses on a small scale. However, over the years it got replaced by brown soap, which was made of animal fat and oil, waste of the domestic pig and of course nowadays by many synthetic detergents.
Polarsken is made of purified, sterilized and ungummed raw linseed oil. A pure and natural product with no additives. Friendly for the environment and biodegradable: the smell of the summer sun..! Without perfume additives.
Cleaning with linseed oil soap is much safer than using solvents such as turpentine, and more likable than synthetic products. It's also great for cleaning your brushes and clothing, as well as wooden and stone floors. And, as mentioned earlier above: Polarsken is a perfect soap for lathering wood.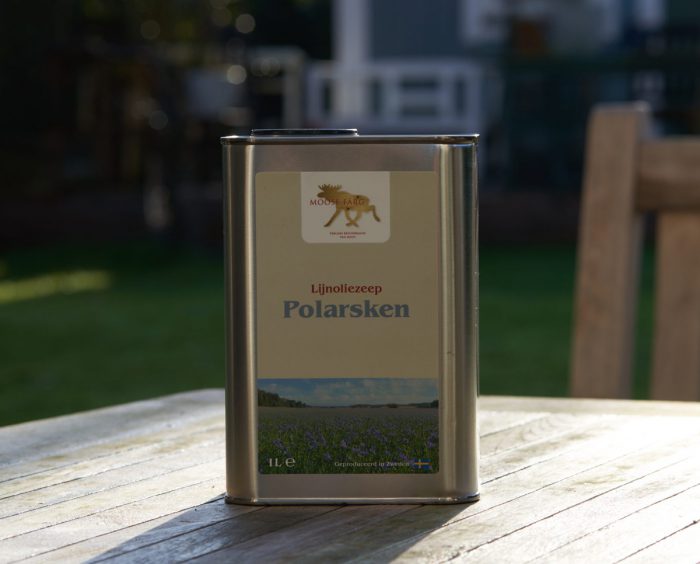 Use of Polarsken linseed oil soap for brushes and clothing:
Mix the soap with water. Soak the brushes or the garment and rinse well with warm water. Repeat if necessary. The mixing ratio is about 1:20 to 1:40, which is 1 cap for about 3 liters of water. You can also use an undiluted solution on your clothes and directly put them into the washing machine.
To clean substrates to be painted, such as wooden fences and panelling:
Mix 1 cap of the bottle with three liters of warm water (again a ratio 1:20 to 1:40) and make sure the soap is well dissolved (stir). You can spray the suds on the surface or apply with a brush. Let it soak for about 10 minutes and then rinse with plenty of water.
Is there growth of algae and moss, then add some chlorine bleach (watch your clothes). That works well against light fouling.
If you suffer from "the weather", as in black spots, you can consider using a heavier remedy, such as an antifungal impregnation, before you start painting. For more information go to: Antisvamp.
Want to order Polarsken directly? Click here