Transparent colorless stain: eco-friendly wood protection
The warm color and appearance of wood make it a popular construction material. The question that often arises is how wood can be protected without losing its natural character.
If you want to impregnate and preserve wood without giving it a colour, our transparent stain Storuman Skydd is an easy and appealing solution.
Storuman Skydd is a colorless stain based on linseed oil and alkyd, which supports the preservation of wood. A water dilutable product that is very pleasant and easy to use.
The clear stain brings out the grain and accentuates the natural wood color
Protects against weather influences, especially moisture penetration.
The wood is cared for and protected, the discoloration of the wood is slowed down.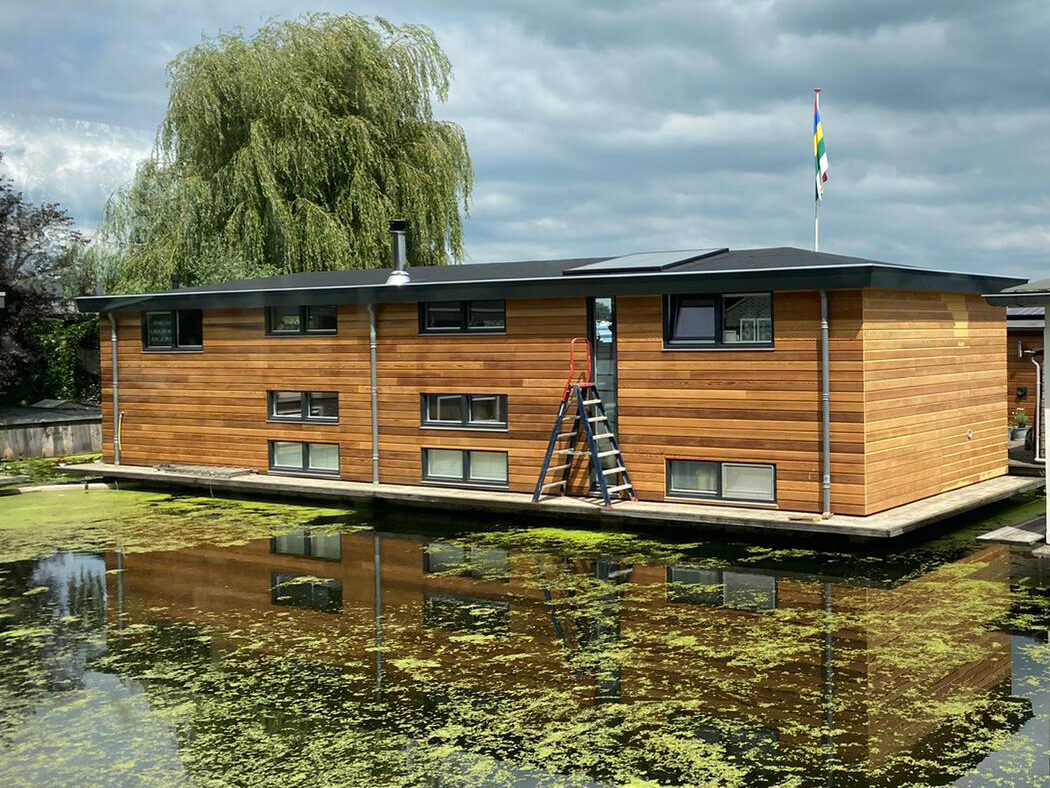 Would you like to order transparent stain?
The natural appearance of wood
Storuman Skydd does not form a lacquer layer over the wood. The stain absorbs into the wood, keeping its structure visible – and even tangible!
This transparent, colorless stain is an emulsion of drying oil. The droplets penetrate into the wood pores and subsequently harden. This is how the product reinforces the wood cells. It does not wash off and offers lasting protection and impregnation against weather influences. At the same time, discoloration due to UV rays is delayed. The effect of Storuman Skydd is longer than that of wood oil, because the latter does wash off over time.
---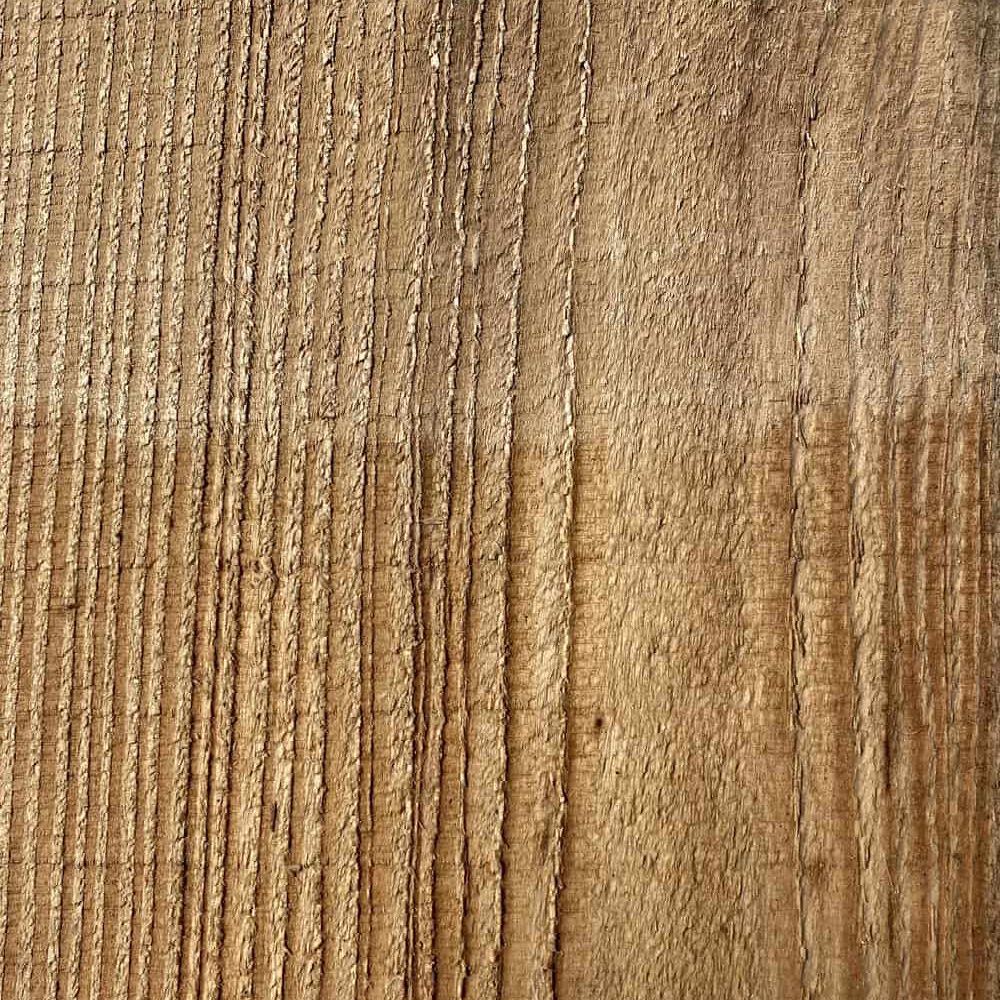 About Storuman Skydd colorless transparent wood stain
A pure eco-product from Sweden. This transparent stain is ideal for protecting the inside of your garden shed, for a red cedar paneling or fence or a wooden ceiling of your veranda or bedroom.
Water repellent
UV-resistant (note: worn out after about 1 year)
Applies smoothly
For outside and inside use
Brings out the wood grain
Very low in solvents
For all types of wood
Water dilutable
Doesn't smell
Impregnate wood with transparent stain?
---
Transparent stain for outside
Storuman Skydd is a very easy product to apply on all types of wood. Whether you have Douglas fir, spruce, pine, larch or red cedar wood; Storuman Skydd can adhere excellently. On sawn and planed wood, some water can be added during the first treatment to facilitate impregnation.
UV block and discoloration of the wood
It is good to realize that a transparent stain such as Storuman Skydd provides protection against UV radiation for a limited time – comparable to the functioning of a sunscreen. How long exactly depends on the amount of UV radiation that hits it. In the shade this can take several years, in direct sunlight the stain will stop the aging for about a year. With a roof frame in the bright sun, the UV block can wear off after six months. As you can see on the photo: the wood only discolours at the fascia boards.
This means that the wood does not keep its color forever and will eventually age or yellow. All transparent stains unfortunately have this property, although other promises are sometimes made. This process is difficult to counter; the sunlight is stronger than any product. The technical protection in the transparent stain stays intact.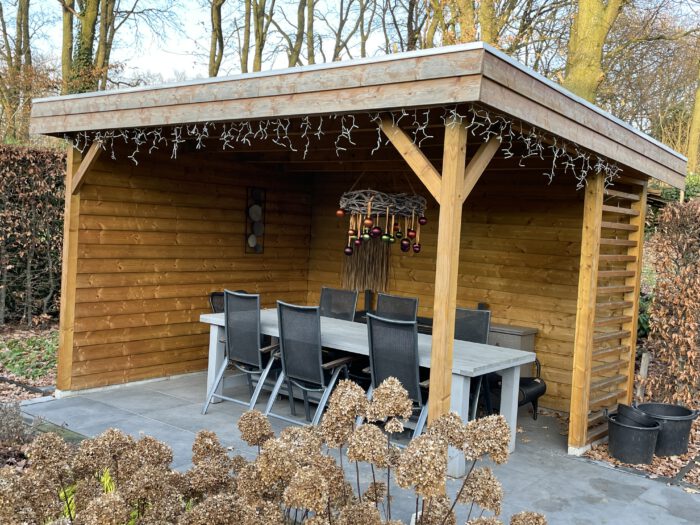 ---
Transparent interior stain
Storuman Skydd is perfect for indoor use. It provides just that little bit of extra protection without changing the color or appearance of your wooden walls. The linseed oil provides a water-repellent effect so that it is easy to wipe off and dust does not linger as easily.
Storuman Skydd is also highly recommended for the inside of gazebo's and garden houses. Especially with a less durable types of wood such as pine or spruce, treating the wood on both sides can ensure that the wood lasts longer.
For the transparent protection of indoor furniture and table tops, it is better to use our matt lacquer Topp. These are surfaces that get grease stains and that you would like to be able to clean regularly. And clear lacquer coat – in contrast to a clear stain – ensures a completely wear-resistant result.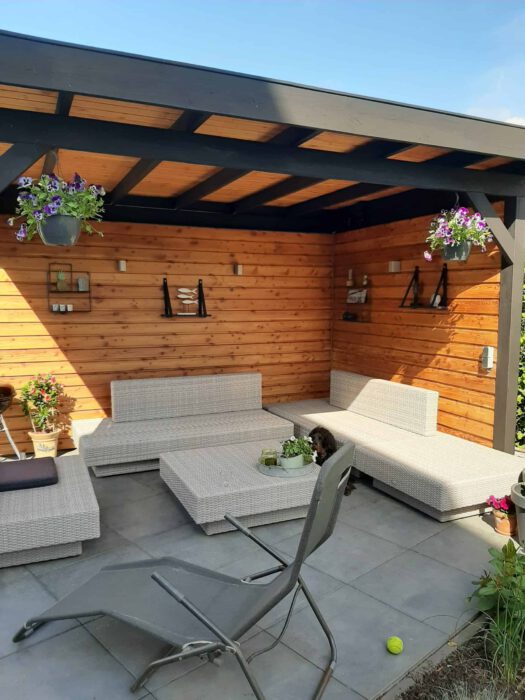 ---
Applying a transparent stain
Storuman Skydd is a very easy-to-use transparent stain. The product is low in solvents, doesn't smell is therefore very pleasant to work. The product looks whitish in the jar, a bit like milk. This is nice, because you can see where you have already stained and where you have not yet. Once the stain has dried, this white color disappears completely.
A clean surface

Since the surface remains completely visible, it is important that it looks neat and clean. After all, old paint residues or dirt remain visible. So make sure the surface is stripped and clean before staining.

Degrease with soapy water of linseed oil soap. This is certainly important for freshly impregnated wood and for indoor wood. A paneled ceiling in a chalet, for example, becomes greasy due to cooking smells, for example.

For outdoors: roughen your planks if necessary

If you are going to stain outdoors, it is important that the paint can adhere well since it needs to be resistant to all weather conditions. The stain adheres best to rough wood. If you have smooth planed boards, it is best to sand it with a coarse grit (80).

Shake 'n stir (and dilute)

Make sure the paint is mixed well by shaking (unopened jar obviously) or stirring. It is possible to dilute with water (5-10%).

Staining

We do not recommend outdoor staining at temperatures below 12 °C. The drying time will become very long and you run the risk that a rain shower will wash the stain off again.

You can apply Storuman Skydd with a brush, sprayer or roller. Don't do this too thick; it is not lacquer. You get a firmer and more beautiful result when you paint 2 thin layers. The whitish color of the stain will disappear automatically when it dries.

Wait for the first coat to dry before applying the second coat. This way it is clearly visible where extra good painting is required for the second layer. At a temperature of 20 °C this is about 6 hours. After the second coat, it should not be allowed to rain heavily for 2-3 days.

Tip: Pour out what you need and close the jar immediately. This way no bacteria will be added and the stain will have a good shelf life.

Cleaning brushes

Are you going to work with the brushes again the next day? Wrap the brushes in aluminum foil and place in the refrigerator. You can continue where you left off the next day.

Is the job done? Do not let the stain dry on the brushes. Use water and some linseed oil soap to clean them. Use a bit of white spirit afterwards for a thorough cleaning. This way you can reuse the brushes in the future.
Put the listed products directly in your shopping cart:
---
Experiences with Storuman Skydd
On a garden house
Floris Mokveld, Roermond (Netherlands): "Five years ago, this garden house was built by Garden Center Soontiëns. We wanted to keep the color of Douglas wood in an environmentally friendly way. We then came across Moose Färg paint. Environmentally friendly from Scandinavia, where a lot of wood is used in construction. Every year a layer of "sunscreen" and the color is preserved.
The planks of the decking are made of Rubinia wood and have not been treated. So they change color, which is also a nice effect. It won't surprise you that we are still super happy with this renovation of the garden. A beautiful spot by the swimming pond."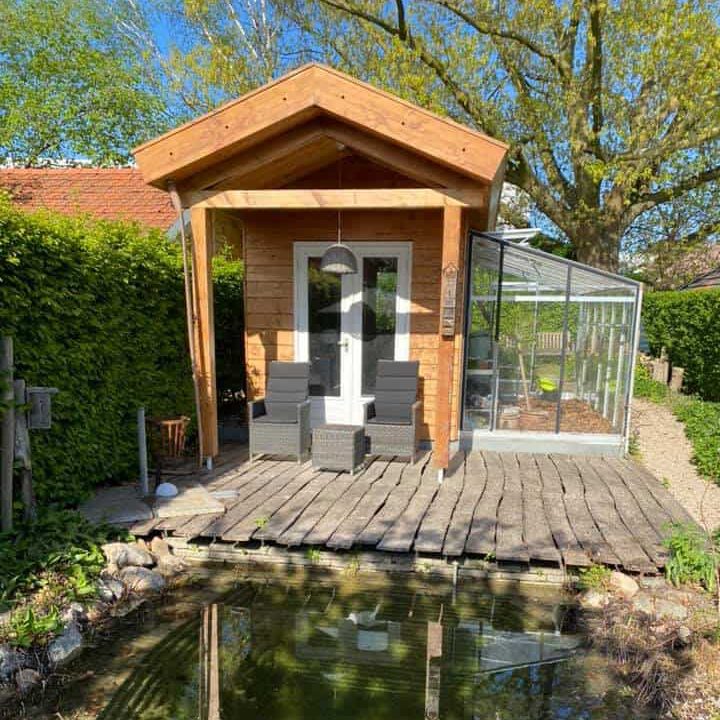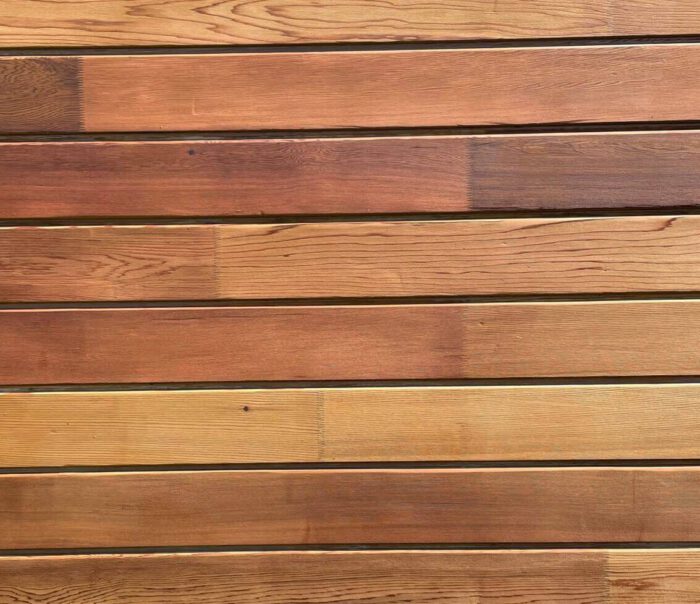 On a fence
Gerard Vlek, Heerlen (Netherlands): "I have been treating our fences with Storuman Skydd Transparent for years, but you have to treat the fence at least twice a year to get the best result. But see photos, beautiful product."
---
Half-transparent stain: with a bit of color
Compared to more pigmented stain, a clear stain offers less protection. UV rays can get through here the easiest. A paint like Moose F, so with a color, gives better protection.
You can also opt for a middle ground. If you choose Dimma wash, the stain contains pigments, but the wood color also remains partially visible.

---
Colorless treatment for decking and terraces
If you want to treat 'horizontal' planks, such as a wooden decking or terrace planks, we recommend Pansar. Storuman Skydd is less suitable for this type of surface on which you'll also walk and rain or snow fall will have a heavier impact.
Pansar is a nano-coating that makes the wood water-repellent. The wood continues to breathe, just like with Storuman Skydd, but it no longer absorbs water, so that algae cannot grow in, the wood retains its shape and it is protected against wood rot. The operation is 10-15 years, so you have very little maintenance on your decking.
Pansar is not a stain, but a two-step treatment that requires more attention. It works best on softer woods such as larch, Douglas fir, spruce and pine. Read the extensive product page or contact us for advice.
---
Transparent lacque for indoor floors and furniture
When protecting indoor wood, such as a wooden floor or furniture, you want a protection layer that is wear-resistant. It needs to be able to stand grease, dirt and intensive cleaning.
In these cases, a transprarent stain is not a strong enough protection. Instead, opt for Topp matt lacquer. Easy to clean, durable, free of solvents and waterbased. An eco product which completely seals the wood.
Would you like additional, personal advice?
We are happy to help. Send an e-mail or call +31(0) 6 55 333 165. Watch our Instruction Video for more information. Apply here for a free color-card.