Painting wooden shutters? Order our matte paint here
Muriel Ballet (Chatehoy, FR): "I have just finished painting my shutters. I am very happy with the result. Your paint is very pleasant to use, does not drip, does not leave any traces. The result is fantastic, with a very soft and natural "powdery" effect."
---
Painting wooden shutters: step-by-step
Painting wooden shutters? Order our matte paint here
---
Painting wooden shutters inside
---
Color advice for wooden shutters
Request a chart with color samples
Choosing a color is a matter of personal taste. Nonetheless you can consider the following when painting your wooden shutters.
Painting shutters of a brick or stone house
A house of bricks has a lot of character due to the color of the bricks. Bright colors don't tend to combine that well with bricks. More neutral shutters in Kiruna Grå (perl grey), Skiffer Grå (slate grey) or Ljus Blå (light blue) are a bit more calm and timeless. In the example below you can see a combination of Ljus Blå (light blue) and Norrland Vit (snow white) on a brick house.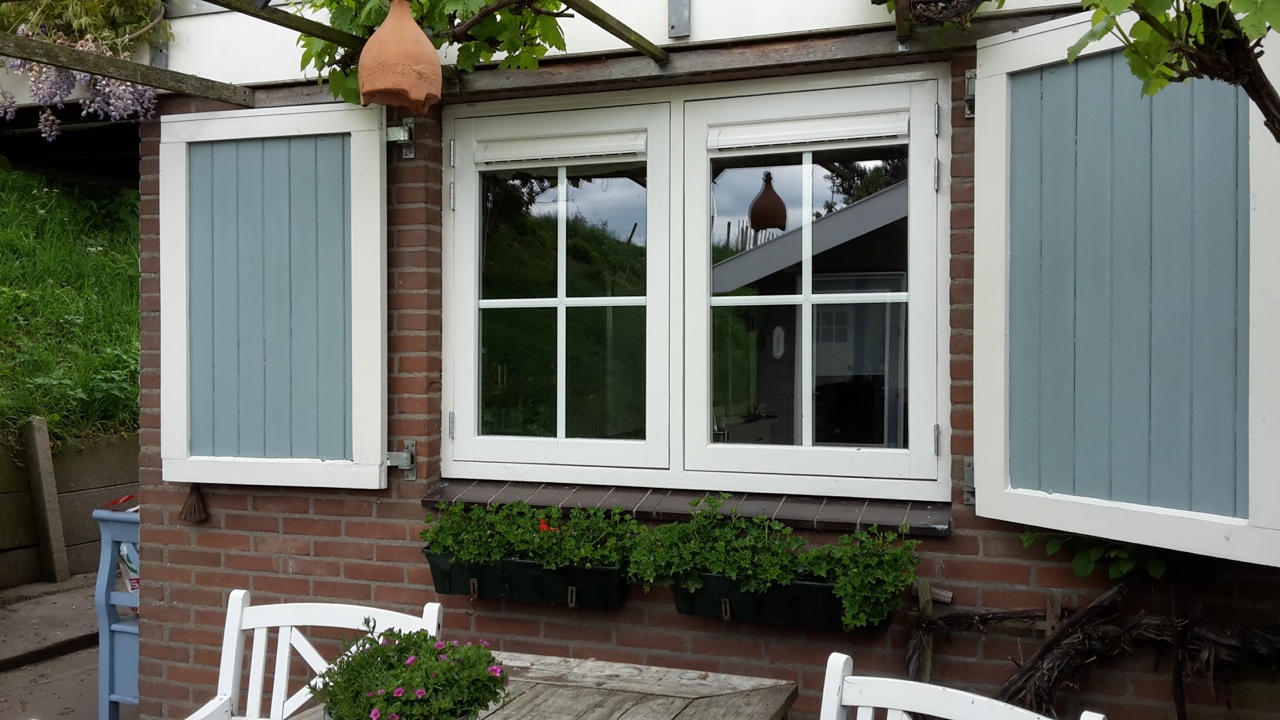 However, would you like your wooden shutters to stand out a bit more? We advise to match a light background with a dark color and vice versa. Jörg Wamser from Bonn (Germany) painted his shutters in Blytungsgrå (lead grey). In the picture below they might appear a bit darker. The dark gray shutters of the white house in Greece below also give the house a luxurious appearance. Or as the owner wrote to us: "The paint is an eye catcher for people who come visit."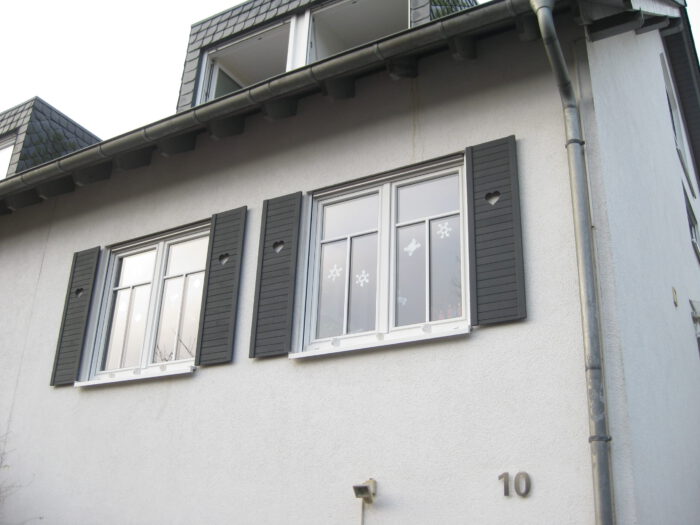 Painting shutters of a wooden house
Wooden houses typically give off a more peaceful and calm look, making brighter colors a good choice. Falu Röd (Swedish red), Bohus Blå (Swedish blue) or a combination of the two is possible. In the picture below for example, a combination of a Ljus Blå (light blue) house and Bohus Blå (Swedish blue) shutters was chosen. It can also be beautiful to combine a bright color wooden house with white shutters (Norrland Vit). Of course, it all comes down to personal preference.