Linseed oil in Swedish natural paint
Moose S (and also Moose F) is a sustainable product and a true natural paint. The Moose S recipe probably originated in Sweden around 1255. The base consists of pigments, filler (to make it spreadable and give it a base) and a drying oil. The oil hardened the paint and therefore stuck to the surface.
Even today, drying wood oil is the key to wood paint. Traditionally, linseed oil has proven to be the most suitable for this. Linseed oil is pressed from the linseed of the flax plant. A cloudy substance is formed when the seeds are pressed. The settling produces a clear oil, which is then called "stand oil".
Moose Färg S also has a natural water-repellent effect due to the addition of linseed oil and is therefore very suitable for outdoor wood, such as fences, facades and garden houses.
In Sweden, some people still make their own variant of natural paint. There's a reason that natural color is an important topic of conversation in the pub in Sweden, because everyone has a wooden house and for that you actually need an understanding of paint.
If you want to know more about the origins of Moose S natural paint, read more about The origin of Moose Färg.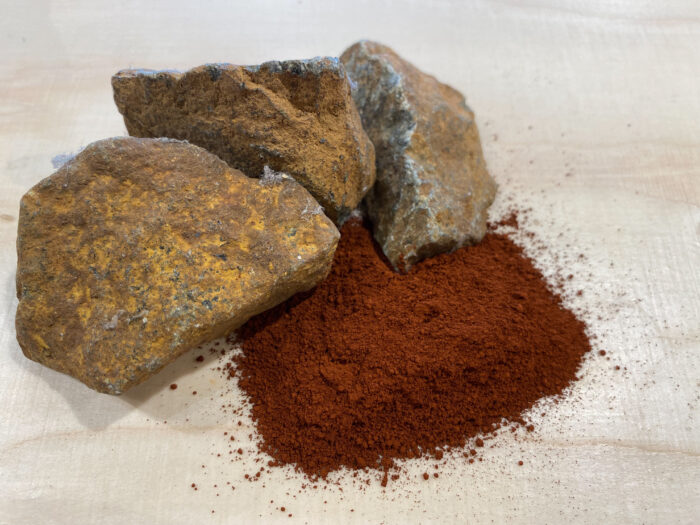 Consumption
An area of 20-24 m² can be painted with 4 liters of paint. This already takes two layers into account. Please note: consumption also depends on the absorbency of the surface. For example, with a highly absorbent surface, consumption is naturally higher than with a less absorbent surface. Even with large white areas, consumption can be up to 50% higher. This factor should definitely be considered before purchasing the paint.
Painting
Applying the color is particularly easy with a (block) brush. This will help you get into the cracks in the wood. Dilute the paint in for the first layer with approx. 5-10% water so that it can optimally penetrate the wood. Let the first layer dry. At a temperature of 20 °C this takes several hours, at a temperature of 15 °C a day. Then apply the second (covering) layer. Make sure that afterwards, no rain comes over the paint for approximately 3 days.
You can clean your brushes and work materials with some water and linseed oil soap.
Moose RDM for hardwood windows and doors
A third color type in our assortment is Moose RDM. This type of paint is also based on the antique natural paint, but contains more oil and filler. This variant is suitable for painting hardwood frames, doors and interior furniture. Unlike Moose F and Moose S, Moose RDM is less able to 'bend' with softwoods such as Douglas, spruce, pine and larch due to its 'thicker' structure. This variant is very wear-resistant and therefore ideal for dimensionally stable doors and window frames.