White wash paint | Dimma | For indoor and outdoor projects
Would you like to give wood a lighter appearance, but maintain the character of the wood? Are you looking for a beach look for your wooden furniture? A white wash paint is perfect for this type of effect: it gives the wood a white 'haze' while keeping the original wood allure.
Our Vit Dimma is a water-based whitewash paint has a gorgeous matte, powdery appearance, comparable to a chalk paint. Perfect if you are not a big fan of the yellowish wood color. Ideal for wood panelling, wooden floors and furniture, and many other projects. Dimma is also available in many other colours.
Suitable for indoor and outdoor use
For all types of wood, including Douglas fir, oak, spruce, pine, red cedar and scaffolding wood
Water-based, low-solvent and pleasant-smelling
Very easy to use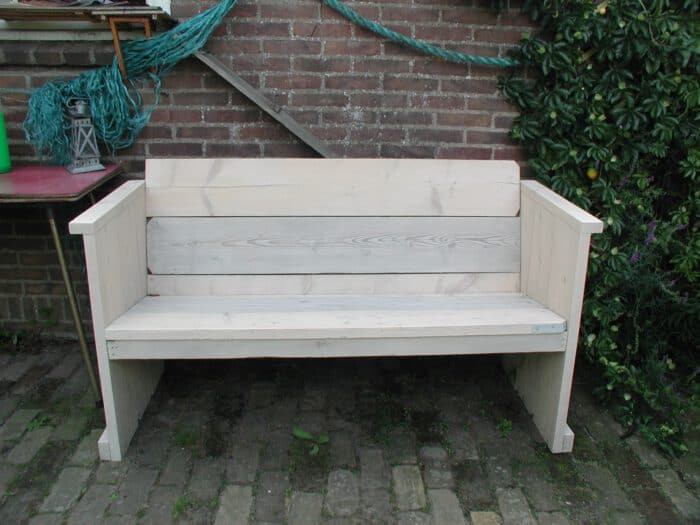 Ready to order your white wash paint?
Whitewash stain for outdoors and indoors
Outdoor protection….
Our eco-based whitewash paint protects the wood from harmful UV, rain and moisture. Whitewashing brightens the look of wood surfaces, without losing the character of the wood. Dimma Vit slows down the yellowing and graying of the wood, caused by sunlight. The grain structure of the wood remains visible, and the wood is protected against various weather influences. Dimma Wash gives your shed or fence a beautiful beach look, protects the wood, and thereby extends the lifetime of it.
…safe for indoors!
All Moose Färg products contain no – or if necessary: ​​a minimal amount – solvents and preservatives. Vit Dimma is water-based and is therefore very suitable for indoor use, for example on a cupboard, ceiling or wall. Painting with Vit Dimma is not harmful to health at all; you can sleep in a painted room the same night. Vit Dimma is also odorless and very easy to use. A stain with the quality of an exterior paint and the characteristics of an interior paint!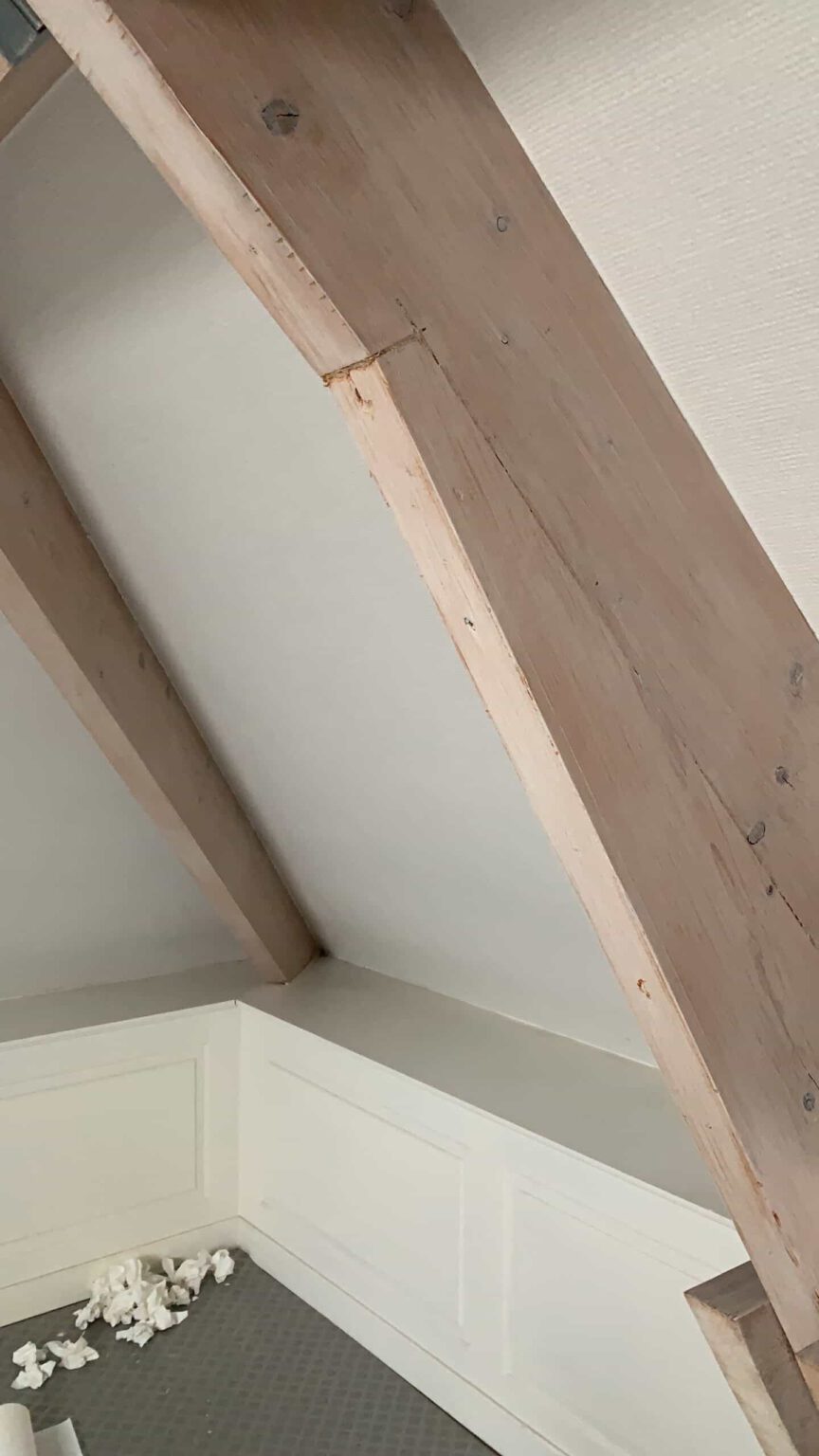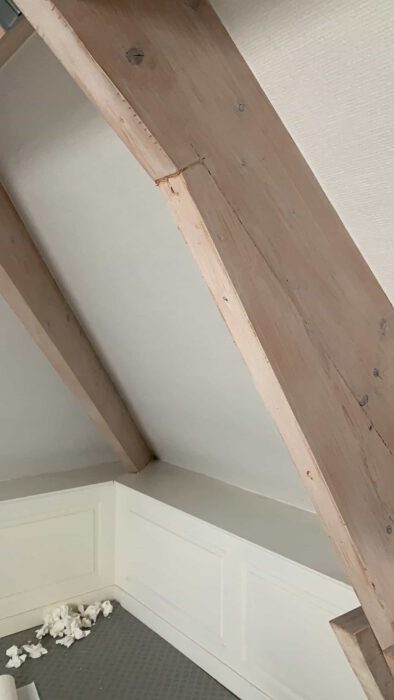 ---
How do I apply white wash?
Painting with Vit Dimma white wash is very easy. The result of whitewashing wood depends on two things: the natural color of the wood and number of layers of white wash you apply. Expect a fairly lighter shade if you're whitewashing wood that already has a light color. On the other hand, whitewashing dark-colored furniture may not turn out as light as you expect.

White washing works best on raw wood. That being the case, it's critical that you remove as much of any existing previous finish as possible.
Degrease, if necessary.

Indoor wood – such as a wall or ceiling – can sometimes become greasy over time, for example due to cooking smells or hand touching.

Pre-treated exterior wood can also be greasy, for example due to an impregnation or oil that was previously applied.

You can degrease the wood with Polarsken organic linseed oil soap.

Roughen, if necessary.

If the wood has been planned, it is good to roughen it with a coarse grit (80). This makes the wood more open and allows the wash to penetrate the wood. This step is mostly important for outside use. Rougly sawn wood does not need to be sanded. You never have to sand between two coats with Moose Färg.

Distribute pigments.

Shake the jar before opening it and stir the paint well. White wash is actually a transparent stain with white pigment particles in it. By shaking beforehand you ensure that the pigment is evenly distributed and you avoid color differences. Dilute a little bit with water (5-10%).

Apply paint.

The paint can be applied easily with a brush or paint sprayer. With harder or smoother types of wood, it can be good to finish with a cloth or felt roller for an even result.

Let the first layer dry and decide if you wish to paint another layer. Applying more than two coats will produce a bright white look, while one layer is best to highlight the wood grain.

Optional: for a 'used' look.

Some customers to create the effect of a weathered surface. You use a coarse sandpaper after the paint has dried. This will remove parts of the paint and it'll looks as if the wood has been used intensively for years.
How many layers of white wash?
Usually, one Vit Dimma treatment is enough for a desired result. If you want to whiten the wood more, we recommend treating the wood twice with Dimma. With each treatment you apply more pigment and therefore see less of the original wood color.
Consumption: Approximately 4 liters of paint for 40 – 45 m² (one layer).
Maintenance: The maintenance of this white wash paint when used outdoors depends on the sun. For outside, we recommend maintenance once every three years, if the wood is not in the sun, this can be extended to five years. When you have used the white wash stain indoors, you can enjoy the whitewash look for many decades without maintenance.
Cleaning: If you want to clean the woodwork, you can do so with a damp cloth. Don't scrub too hard.
Want to buy whitewash stain?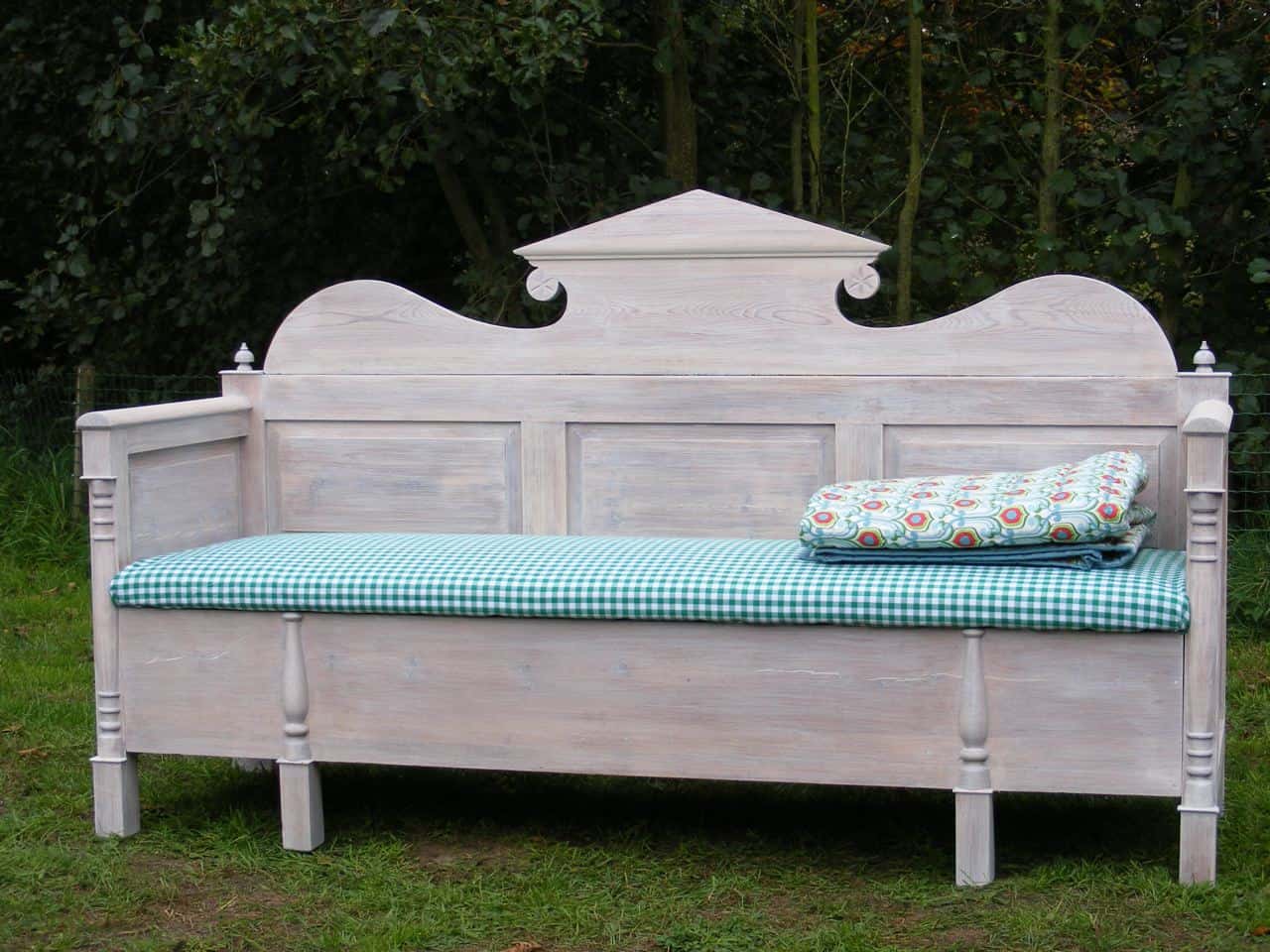 ---
For all types of wood
Dimma Vit white wash stain/paint is suitable for all types of wood; from oak and douglas to scaffolding wood, and from spruce or pine to teak. The white wash can also be used with plywood, hardboard or chipboards, after the wood has been degreased and sanded properly. If you have any doubts about anything, you can always contact us.
Against yellowing and graying of the wood
Some types of wood, including red cedar, generally age quite quickly. Many people don't like the grey look of the wood. With a white wash you apply a white haze over the wood, creating a UV block. This inhibits the aging and yellowing of the wood. Keep in mind that the aging of the population will not be completely counteracted in the long term. Because the wood remains partially exposed to the sun, it will discolour to some extend.
---
Populair white wash applications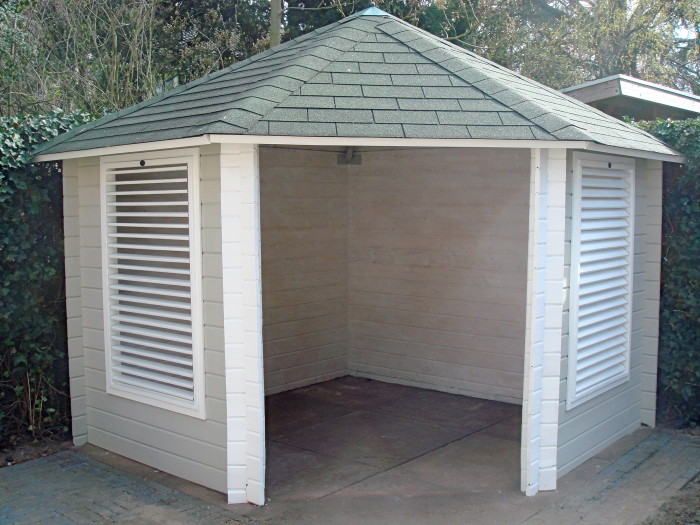 The inside of garden houses
At Moose Färg we mostly sell our opaque paint for the outside of garden houses and log cabins.
A whitewash stain is a very nice solution for the inside of your garden house. Because less sunlight gets to the inside, an opaque color can quickly give a stuffy effect. If you would like to give your inside a protective layer, you can go for our colorless stain or a (white) wash.
Protect the wood while giving it a lighter look. After all, moisture can also affect the inside of the garden shed!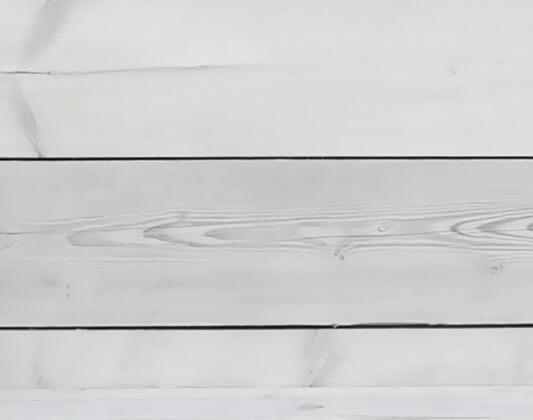 White wash floor
Whitewashing a wooden floor requires some extra attention because a floor is used a lot. As a result, signs of wear will show much faster than on, for example, a cupboard. We highly recommend finishing your floor with lacquer Topp. This gives your floor a super strong and wear-resistant layer. After the white wash layer, you only need to apply two layers of clear lacquer and you are done.
Be careful with tannin-containing woods: when you apply whitewash to a floor that contains a lot of tannin (such as oak), there is a chance that it will strike through after painting and varnishing. This means that the dark parts appear through the paint, causing brown 'spots'. Inquire about the possibilities.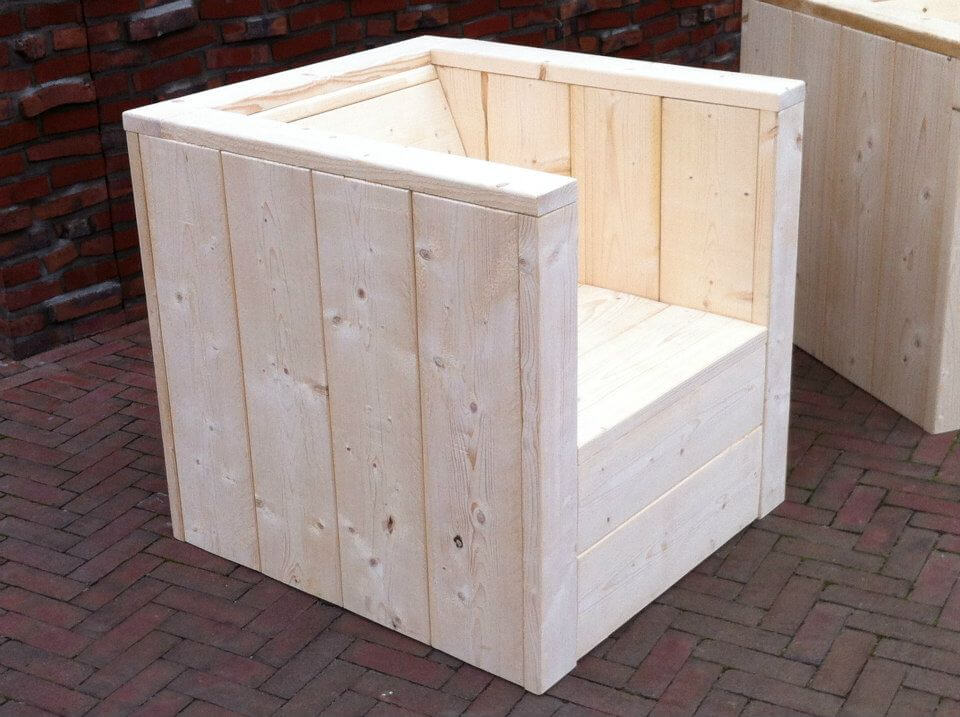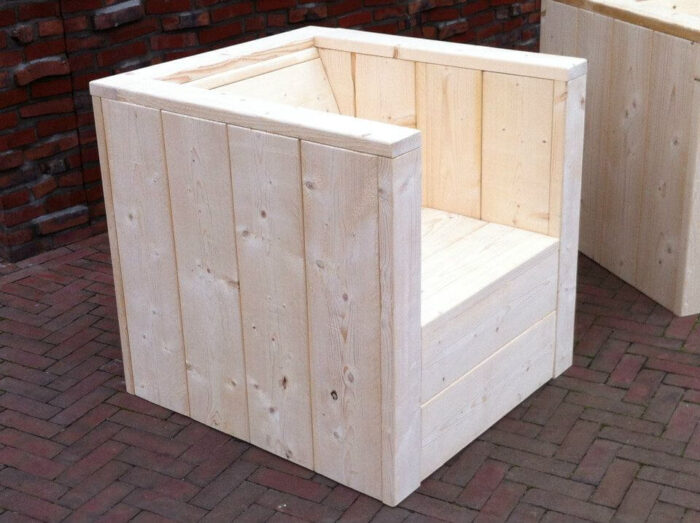 White wash for furniture
Dimma white wash also revives your furniture and garden furniture. Whether it an old piece of furniture or a brand new one: giving it a new rustic-meets-vintage whitewashed look may be just the thing.
If you are going to white wash user-intensive surfaces such as a table top, use Topp matt laque as a finishing coat. Dimma Vit is matte and powdery, which has a lovely rustic appearance. However, signs of wear can become visible. While these can be polished or touched up in no time, but it is even easier to give such a surface a wear-resistant easy-to-clean layer.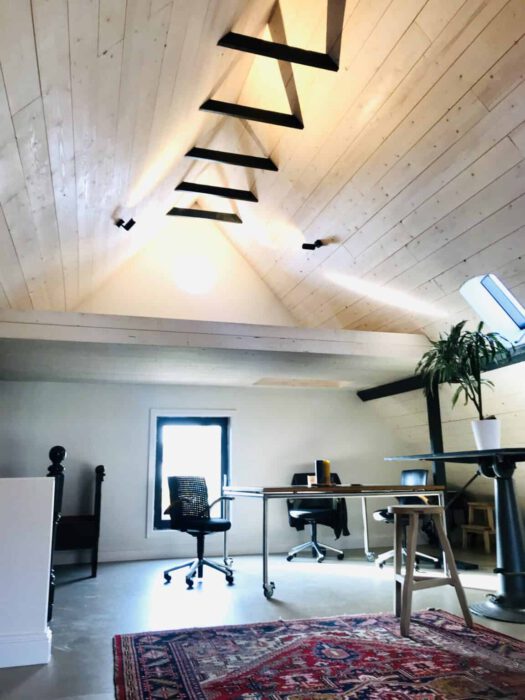 Ceilings and walls
A white wash can also really freshen things up indoors. Think of a yellowed wooden ceiling or brownish walls that don't not really match the rest of the interior.
With Dimma Vit white wash you keep the natural appearance of the wood, but it all becomes just a shade lighter. How much lighter you decide yourself based on the number of layers you apply.
Anita Masseling, Interior architect (Deventer, the Netherlands): "Hello Jan, The result is beautiful! Dimma Vit whitewash on pine."
---
Colorwash!
Vit means white, and Dimma means fog or mist in Swedish. Without giving an opaque color, a Vit Dimma leaves a white layer on the wood, giving it a rustic weathered look.
In addition to white, Dimma Wash is available in many other colours. For example, gray wash and black wash have also become popular in recent years. You can get Dimma in all our standard colours. A red wash, blue wash or yellow wash are also options!
---
Frquently asked white wash questions
What is whitewash?
White wash is a semi-transparent paint with white pigments. It gives a white haze over the wood, but you can still see the wooden surface through it. As a result, the white wash effect differs per type of wood.
What color is whitewash?
White wash cannot be captured in a color code. A white wash creates a white haze over your wood, so that the surface and the number of treatments determine the color result. For example, a whitewash stain on a dark oak surface is very different from when it is applied to light, yellow spruce planks. And when you paint one layer, the result will be less white than when you apply two or three layers.

Because whitewash Vit Dimma gives a different result on every wood, we do not have color samples. If you first want to see what our white wash stain looks like on your project, you can order a sample.
Can you repaint whitewashed wood?
Yes, this is certainly possible. If you have previously painted with our Vit Dimma, you can repaint it either with e new layer of Dimma or with with Moose F in an opaque color. Sanding is not needed either way.
Why should I order Dimma and not just dilute a white paint with water?
To get the right color or appearance it is possible to dilute Moose F (or another white paint) with a lot of water. However, the wood will be less protected if you do so. You not only dilute the pigments, but also the other substances of the stain, such as oil and UV block. Dimma white wash contains fewer pigments than an opaque paint or stain, but has equally as many wood protection parts.
---
Would you like additional, personal advice?
We are happy to help. Send an e-mail or call +31(0) 6 55 333 165. Watch our Instruction Video for more information. Apply here for a free color-card.