Nano coating for wood Pansar | Water-repellent treatment for wood
Do you want to make your wood water-repellent without painting or staining it? Pansar is a unique presevative nano-coating and water-repellent treatment for wood. Ideal for, for example, decking, terraces or fences made of coniferous wood.
Based on nanotechnology, Pansar ensures that the pores of the wood are closed, making the wood water-repellent. The wood continues to breathe, but no longer absorbs water, which helpt to conserve the wood and makes cleaning easier.
Long-term (10-15 years) protection and preservation of the wood.
Algae cannot grow in, so that, for example, a decking does not become slippery after a rain shower.
Protects surfaces against algae, oil, dirt, water, UV etc.
The wood retains its structure and natural appearance, there is no visible layer on the wood.
The breathability of the wood is preserved.
Ecological protection, without solvents or other harmful substances.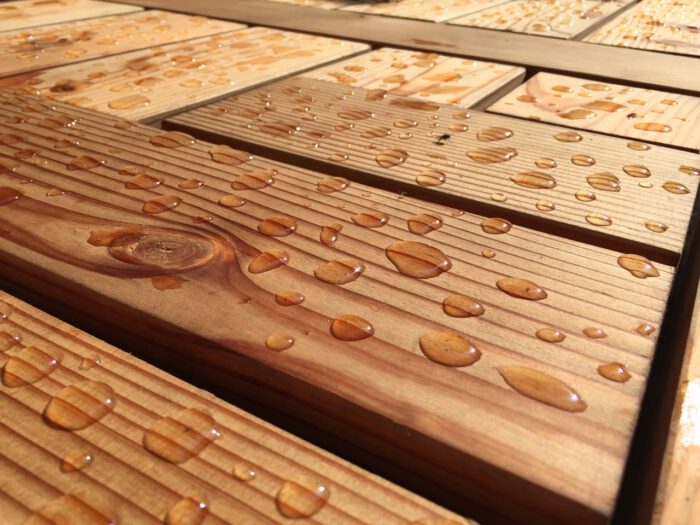 Want to order our water-repellent treatment for wood?
Why would you use a nano coating for wood?
If you want to protect your garden wood against moisture, without requiring much maintenance while mainting the natural look of the wood, Pansar is a very suitable product for you.
Pansar 1+2
Pansar 1+2 is a deep nano coating that makes your wood water-repellent, without placing a visible layer on it. Through a two-step treatment, the nano-coating penetrates deep into the wood, protecting it for 10 – 15 years. Pansar 1 + 2 contains no harmful substances and is totally ecological. Ideal for a wooden deck, terrace, wooden fences, fences and wooden garden furniture. Also used on saunas, paneling and wooden facades. Particularly suitable for untreated open wood, such as pine, spruce, Douglas fir, scaffolding wood and larch.
Pansar Lätt
Pansar Lätt is a superficial nano-coating, which must be repeated annually. It is easy to apply with the spray bottle it comes in. This nano product is also completely ecological. Pansar Lätt is often used to protect garden tables made of tropical hardwood such as teak and bankirai. Can also be applied on painted wood.
The result of the nano-coating on wood is a water-repellent protection in which the wood remains completely natural. The wood color will not remain completely the same, but the wood will have a lighter appearance and will age less darkly. After a rain shower you will see that the water does not soak into the wood, but beads off. Because algae cannot grow in, your wooden decking will no longer be slippery.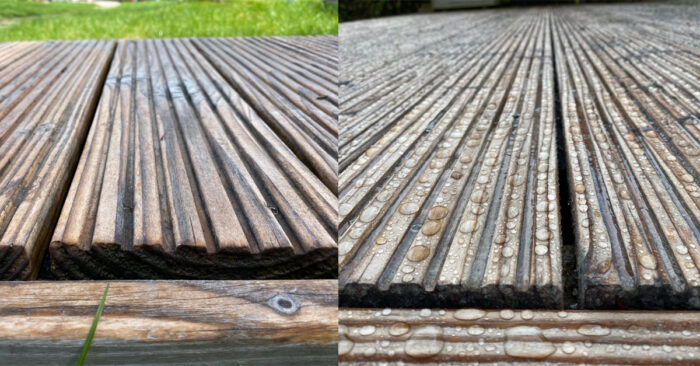 Pansar 1+2: Water-repellent treatment for wood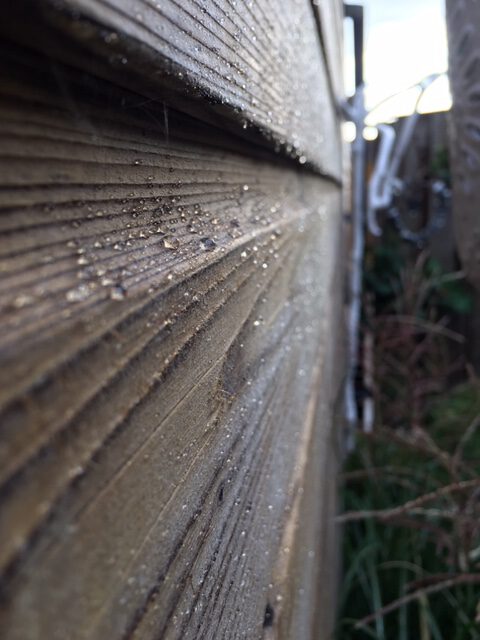 Pansar 1+2 an ecological treatment consisting of two components. The nano coating penetrates deep into the wood and thus protects your decking, terraces and fences in the long term (10-15 years).
The treatment of the wood ensures that nanoparticles penetrate the wood and settle there. This prevents water from penetrating into the wood. The wood becomes water-repellent and water rinses off or remains in pearls. This ensures that dirt cannot penetrate into the wood and wood rot does not stand a chance.
Pansar 1+2 is based on nanotechnology and the main component is silicon dioxide. This penetrates deep into the wood and makes it a durable, vapour-permeable, breathable surface.
Our nano coating protects the wood against water, oil, dirt and UV radiation, which preserves the wood. The wood will still discolour in the sun, but will usually darken less. It has a pleasant, light appearance.
Pansar 1+2 is only suitable for bare wood. Pansar works well on spruce, pine, Douglas fir and larch wood. On hardwood such as teak or bankirai it is possible to use Pansar1+2, but then you have to be extra precise. Get any advice from us. Pansar Lätt (see below on the page) is suitable for processed wood and tropical hardwood.
Step by step: applying nano coating Pansar 1+2
The use of Pansar 1+2 is not complicated, but it should be done with care. Pansar contains no harmful substances and is totally ecological, there's no need for protective gear while applying. Consumption is approx. 1 liter for 10 m².
Cleaning the wood

Pansar 1+2 can only be applied to raw, open wood. If there is an impregnation or oil in your wood, make sure that you first clean and degrease it very well.

The wood surface must be dry and completely free of dust and dirt. Pansar like a magnifying glass, everything remains – and becomes even more – visible. If necessary, clean the wood by lightly sanding it with 80 grit and scrubbing with soapy water. The soap residue must be properly removed before applying the Pansar 1.

Apply Pansar 1 (nano-base)

Shake the product well in the package before use. Pansar 1 should be applied thinly, you can possibly dilute up to 10% with water.

Apply Pansar 1 to completely dry wood with a brush or roller. Be careful not to apply Pansar 1 too thickly. This can cause the wood to turn whitish.

Wait for Pansar 1 to dry before applying Pansar 2. The drying time depends on the temperature and humidity. At temperatures around 20 degrees, Pansar 1 dries in about 2-4 hours.

Apply Pansar 2 (oil coat)

Pansar 2 allows Pansar 1 to settle and react with the wood. This takes a few weeks. Pansar 2 initially makes the wood a bit darker and fuller in color, in particular with tannin-containing woods. This rinses off again later so that the wood will look fully natural.

Apply Pansar 2 with a brush and rub or "massage" the oil well into the wood. Use a cloth if necessary.

Make sure that no rain comes over the wood for at least 24 hours after applying Pansar 2. After treatment with Pansar 2, the wood will appear darker. This will disappear within a few days to weeks, the wood will then become lighter again.

Post-treatment

It sometimes occurs that a white haze appears on the wood after treatment. We see this especially with tannic woods such as teak and oak. This is caused by an overdose of the Pansar 1 or by (impregnation) salts. These will disappear after a few rain showers and are technically no problem. If this annoys you, you can rub with Pansar 2 or use maintenance oil Pansar C.

Cleaning work equipment

Clean your material and brushes with soap and water.
Maintenance of water-repellent wood with Kalizeep or Pansar C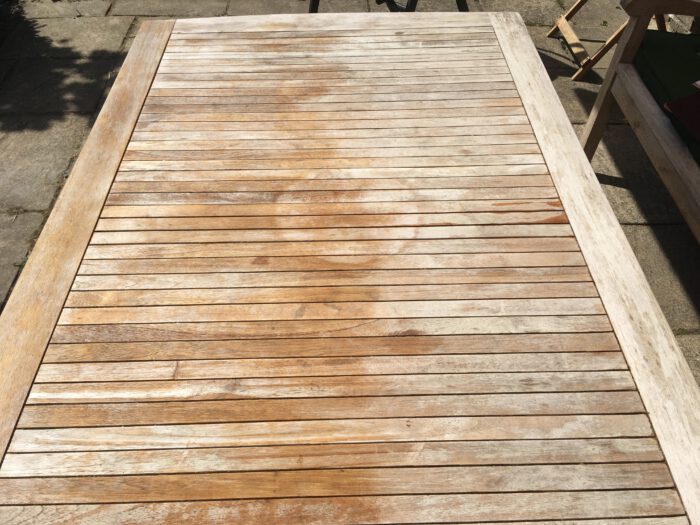 Cleaning wood with nano coating
The easiest way to clean the wood that you have treated with Pansar is with water. If you want to clean more thoroughly, use Kalizeep. Do not use normal soap, it can contain sodium and affect the beautiful nano layer!
Bring out the color
If you are very fond of a dark wood color and you want to emphasize the color after some time, you can treat the wood with Pansar C. This maintenance and cleaning oil is based on silicone. It cleans and nourishes the wood and brings out the wood colour.
Pansar Lätt: nano coating light
Pansar Lätt is a light version of Pansar 1+2. This consists of 1 component and comes in a convenient spray bottle. This makes the product very easy to use.
The advantage of Pansar Lätt is also that it can be applied over wood painted with Moose F – something that is not possible with Pansar 1+2.
Pansär Lätt is very suitable for garden furniture, among other things. Due to the water-repellent effect, the wood is better preserved. Pansar Lätt is also very suitable for teak garden tables.
Because Pansar Lätt penetrates less deeply into the wood, the effect usually wears off after about a year because the weather conditions will affect the protected layer. You can then simply clean and apply a new layer of Pansar Lätt.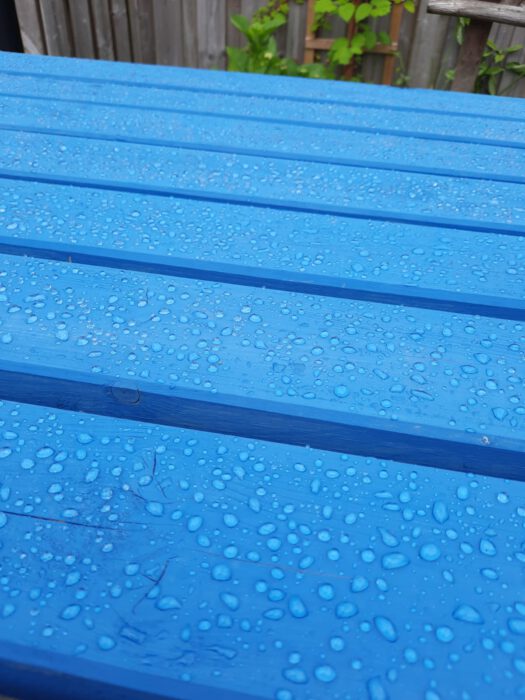 The color effect of nano coating depends on the type of wood
The wood remains wood, both in structure and appearance. There is no film layer on the wood, the wood appears to be untreated. Incidentally, your wood will initially turn dark after treatment with Pansar 2 due to the oils, especially with wood that contains a lot of tannin. This will go away over time – and some rain showers.
A white haze may occur with overdose of Pansar 1. Also, when the wood type contains more salt, this might happen. This too will subside over time, or if you rub in more Pansar 2. Below an impression of what it the above stated can look like. Picture one displays the case of applying Pansar 2 after overdosing Pansar 1. The second picture is immediately after treatment with Pansar 1 + 2 and the third picture shows the result a couple of weeks after treatment.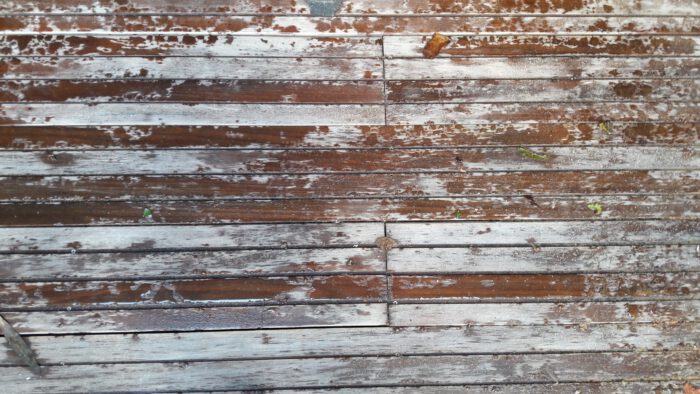 Effect of a water-repellent treatment wood on the long term
Because the moisture does not penetrate, wood cells are not broken down. The wood therefore remains lighter in color. Please note: it is impossible to completely preserve the original wood yellow-ish color. However, the wood stays lighter and more pleasant in color. If you want to bring out the dark wood color again, you can occasionally treat it with Pansar C.
Some examples of Pansar 1+2 on wood:
The effect depends on the type and roughing of wood. Thanks to the magnifying glass effect, all details will become more visible.
The wood remains wood, something that can be seen beautifully on the picture with scaffolding wood that has been treated with nanocoating. The wood structure remains visible, there is no layer on the wood. Nevertheless, a wood has had a water-repellent treatment that prevents moisture penetration.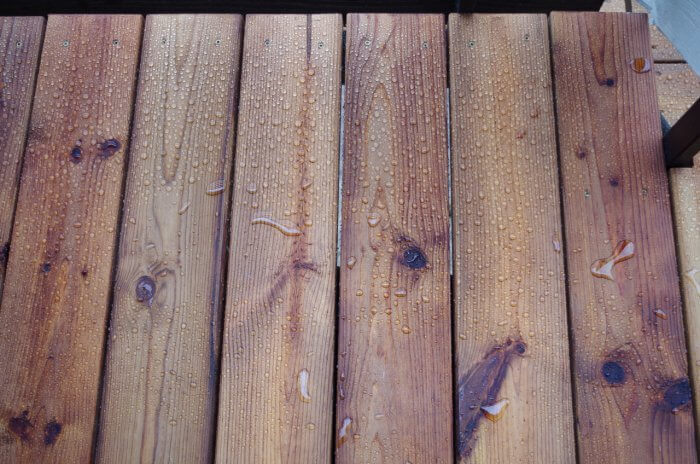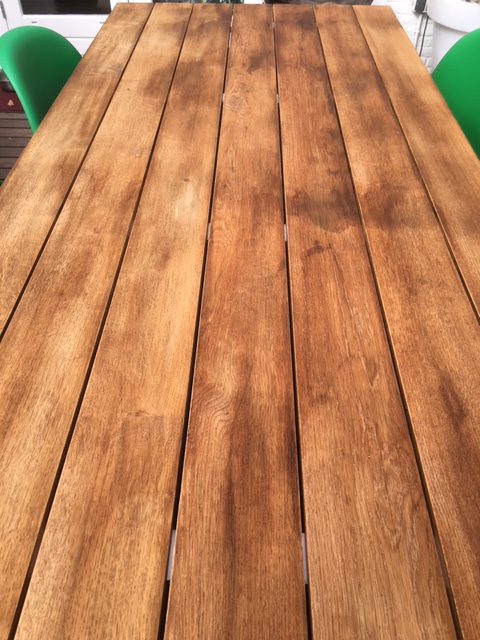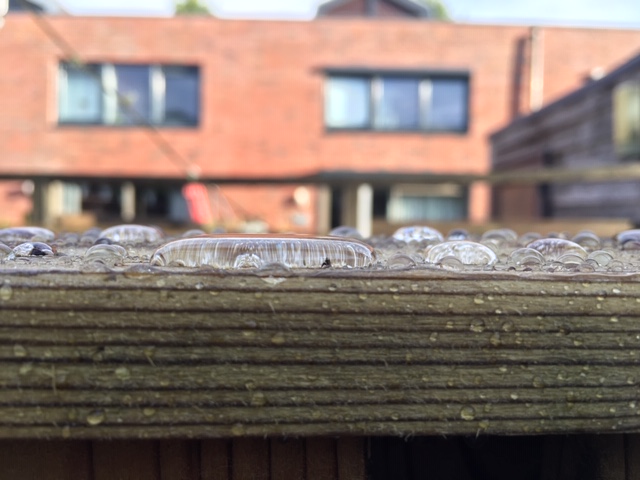 Frank Hooijer: "Hello Jan, I wanted to send you some pictures of the sofa that has been treated with Pansar 1+2. Me and the customer are very happy with it and will now also offer it for another outdoor project ."
Making decking or terrace wood water-repellent
A nano coating is particularly suitable for horizontal terrace or decking components. These wood surfaces are difficult to treat with paint because rain, moisture and UV make lying wood quickly weathered. Dirt settles quickly. You will also quickly see damage due to use because you walk over it.
A water-repellent treatment for your decking gives it excellent protection. The nano coating is not visible, but ensures that the water remains in droplets on the wood and does not absorb into it. The wind will eventually blow the drops away or evaporate them.
Pansar protects against UV radiation, fungi, wood rot, green algae and greying. Deformation due to absorption of water is prevented. Algae cannot penetrate, so your decking will not become very slippery in autumn and winter. It i super easy to clean your terrace with some water, and possibly some Kali-soap.
Nano coating for hardwood
You can also use Pansar 1+2 for hardwood. Please contact us about this so that we can give you a good explanation!
Hardwood decking and fences – especially teak and bankirai – are often composed of different parts of the tree. As a result, the structure is sometimes not completely even. Pre-treatments with PU and salts are also often carried out to initially make the wood look more beautiful and smooth. This is not noticeable during purchase and construction, but it is during weathering. Pansar reacts with the wood which emphazizes the unevenness. If Pansar 1 is applied a little too generously, this will result in a white haze. This is crystallized nano and is technically not a problem. It can only look aesthetically less appealing.
By scrubbing after a few weeks with soapy water with Kalizeep and after-treatment with extra Pansar 2 or with Pansar C, this effect will largely disappear. Reapplying the cleaning oil may be necessary annually.
Technical information
Consumption
Both Pansar 1 and Pansar 2 have a consumption of 100 ml/m². So for 10 m² you need approx. 1 litre. We have packaging of 1.3L or 3L.
Application temperature
At a temperature above 10° C. After application, it must not rain for at least 24 hours. Even between the application of Pansar 1 and Pansar 2, no rain should come over it. This will flush out Pansar 1 because Pansar 2 fixes Pansar 1.
Apply
With a brush or roller.
Drying time
Pansar 1 dries in approximately 2 to 4 hours, depending on the temperature. Make sure that no rain gets over it both between applications and after applying Pansar 2.
Compound
The Pansar 1 and 2 products are aqueous emulsions and completely solvent-free. Pansar 1 is reinforced with ceramic (nano) particles. Pansar 2 and Pansar C are oil treatments and contain silicones. You do not need to use any protective agents when applying.
Is a water-repellent treatment for wood something for you?
We understand that you may have questions. Don't hesitate to contact us if you're wondering if your Pansar is right for you.
We summarize it as briefly and powerfully as possible:
Pansar 1+2 nano coating
Penetrates deep into the wood and protects in the long term (10-15 years).
Two-step treatment.
Only suitable for untreated wood.
Works well on open wood, such as pine, spruce, Douglas fir, scaffolding wood and larch.
Highly recommended for wooden decking, terraces, fences, garden fences and garden furniture.
Makes the wood dark first, then the wood will get a lighter color.
The protective layer is not visible, there is no layer on the wood.
The wood is protected against the harmful effects of UV, but will not be completely protected against discoloration of the wood. The wood discolours in a pleasant, light way.
Pansar Lätt nanocoating
Superficial nano-coating that usually needs to be repeated after one year.
Easy to apply with a spray bottle.
Suitable as a finish for painted wood.
Work on all types of wood.
Recommended for e.g. garden furniture or as extra protection.
Leaves no visible color.
The protective layer is not visible, there is no layer on the wood.
Would you like additional, personal advice?
We are happy to help. Send an e-mail or call +31(0) 6 55 333 165. Watch our Instruction Video for more information. Apply here for a free color-card.