for untreated impregnated, planed or stained wood
Are you looking for a robust, matt wood paint for painting your garden house, fence, wooden house or log cabin? Then Moose F is the best choice.
Moose F absorbs into the wood, does not form a film over the wood. The wood can continue to breathe.
A beautiful Swedish color palette with completely matte colors.
Moose F is water-based and contains no microplastics. An environmental, human and animal friendly choice.
Maintenance is very simple; simply clean and re-apply with a coat of Moose F. No sanding required for maintenance. Moose F is maintenance-free for an average of 5 years.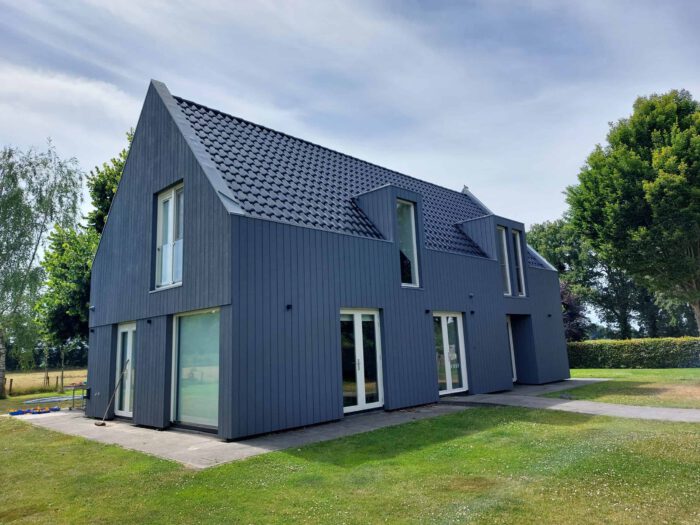 Breathable matt wood paint Moose F is made of modified linseed oil (alkyd) but water dilutable, a "mayonnaise", an emulsion of oil droplets. Suitable for all wood; impregnated wood, planed and already stained wood. Also for inside: plaster, wallpaper, plasterboard, MDF and textured paint. Ideal for Red Cedar, oregon pine and heat-treated wood. Not suitable for metal (but does cover nails and screws). If you want to paint an already painted panelling, take a look at Moose RDM, this can also be a suitable solution. We recommend RDM wood paint for bargeboards, window- and doorframes, doors and furniture.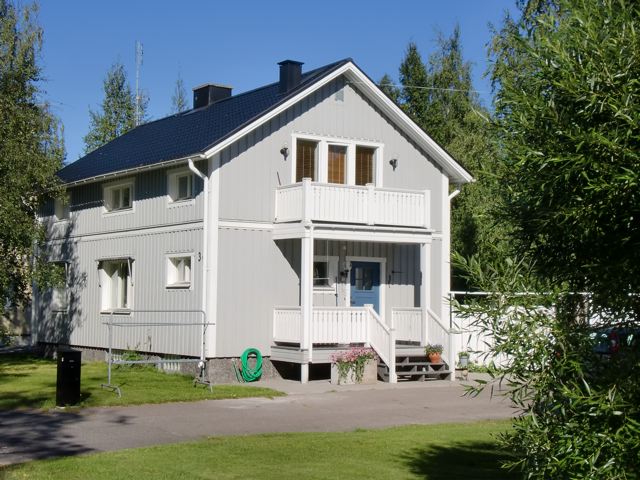 Houses in Moose F breathable paint
Moose F wood paint has an open breathable structure
It does not form a sealing film as ordinary film-forming (linseed) oil paint and "ordinary" paint, which contains acrylic resin, do. Therefore the surface 'breathes' so it does not give rise to flaking with expansion and contraction. This breathable paint is water-repellent and preservative; drops of water slide off.
Applying the paint is easy, due to the matt character you do not see brush strokes. Painting twice usually does the trick (sometimes three times if the wood 'sucks' and when you use light colors, especially white). For large white areas you can first "prime" with Moose F and use RDM for a final coating. Primer is not necessary as Moose F is its own primer.
Want to order Moose F directly? Click here
Breathable matt paint for wood, easy to maintain, does not flake.
Moose F follows the age-old recipe but is reinforced with modified natural oils: alkyd. Moose F gives the real matt appearance we find in typical Swedish colors. (Like the S type and RDM, the colors are exactly the same). It has a pleasant smell, is fully water dilutable and smears very easily.
Stains on your hands and clothes are easily removed with water. It is solvent free. It can also be used for raw wood and weathered wood, but it is most commonly applied to smoothly planed impregnated wood. Moose F wood paint can also be used on old stain or old paint, provided that the surface is not flaking, is clean, free of grease and lightly sanded.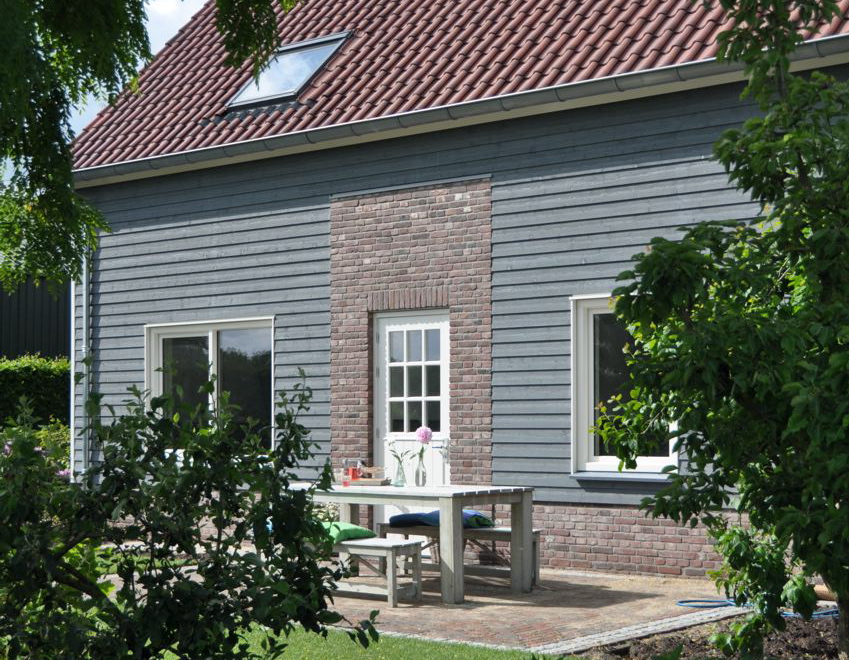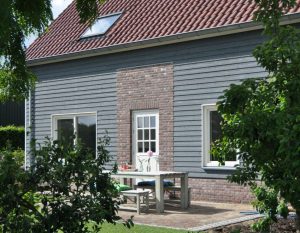 Moose F breathable matt wood paint does not flake (take care of a good pretreatment) so repainting and touching up is always possible. The durability of the result will depend on the circumstances, such as whether the timber is covered by a roof or not. The Dutch climate is more humid, though in Sweden the differences in humidity are a lot bigger. But even here it can last outside for years, 4 to 5 years for certain. In Sweden 20 years is known to be no exception.
Let the first coat dry thoroughly. At a lower temperature, the time of drying is significantly longer. If you paint again too soon you will dissolve the first layer with the second which will just keep you busy way too long. Also make sure that the paint is not exposed to heavy rain the first 1 or 2 days, because it may absorb moisture and become soft again and in the worst case slightly 'rain off'. Softened paint can dry again just fine by the way, this is no problem. Sometimes using a roller to do some final finishing can be useful. Moose F is fully wheater and water resistant after one week.
Especially regarding furniture and doors, remember not to put it into use too fast; the paint must thoroughly harden, which can take up to a week. If you want a more robust, durable result for your bargeboards, doors, window- and doorframes and furniture, use Moose Färg RDM.
Be sure you prepare previously painted or impregnated wood well:
Clean with for example Polarsken linseed oil soap and sand it with coarse sandpaper (80 grit). The surface may absolutely not shine, you have to sand down the top layer for a good adhesion.
It is also important that the underlying painted and unpainted substrate are not alternately present in large surfaces. This will stand out too much. However, if the underlying paint is smooth or there are just minor paint traces, then the F type wood paint is highly recommended. If you have doubts please use Moose Färg RDM for the difficult pieces, such as window- and doorframes and doors. It is also advisable to provide large white surfaces (prime with Moose F) with a final layer of RDM.
Do you want a wear-resistant layer for, for example, a table top, floor, or staircase? Use Topp, our easy and enjoyable floor varnish.
Order here: TOPP transparent matt lacquer.
Moose Färg F breathable wood paint comes in beautiful natural colours :
All Moose Färg colors »