Wood paint | breathable & matt | for all types of wood
Wood is a beautiful, sustainable building material for – for example – a garden house, fence, wooden house or patio cover. An important characteristic of wood is that it shrinks and expands under the influence of moisture differences.
A classic lacquer paint cannot move with these whims of the wood. The result: the lacquer paint starts to peel. However, if you opt for an breathable wood paint, applying it is a lot easier and the result is a lot more resistant.
Moose F is robust wood paint which preserves the wood while giving it a a wonderful matt color. The paint is not a design trend, but has been used in Sweden for more than 350 years to protect outdoor wood. Even in a harsh climate with extremely changeable weather conditions such as Sweden, the paint proves itself again and again as the ideal wood protection!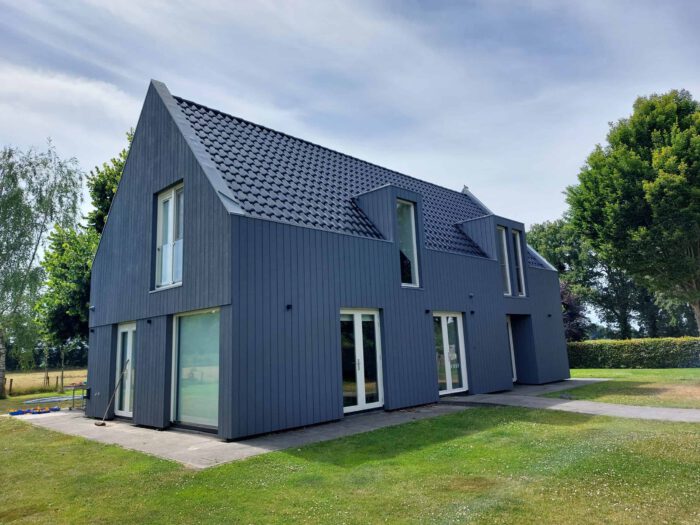 Want to order immediatley? Check our prices: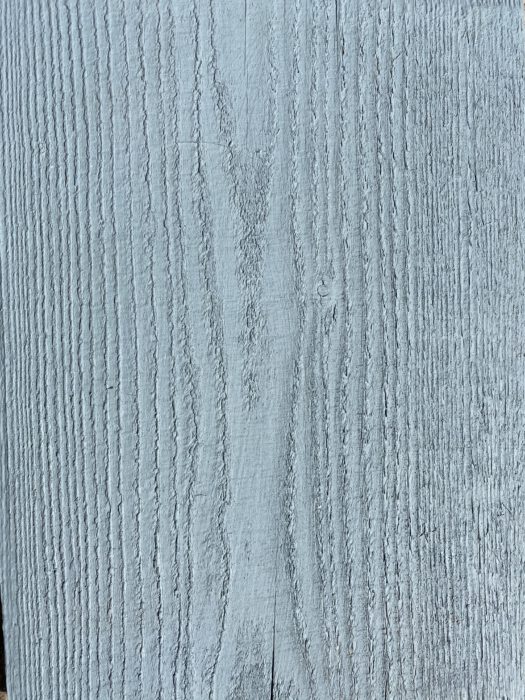 What is a 'breathable' wood paint?
With a layer of stain you protect wood against weather conditions. Stain penetrates into the wood, in contrast to a lacquer that puts a film layer on the wood. A breathable wood paint has the preservative properties of a stain, but the opaque color of a paint. Breathable paint systems are opaque stains which allow vapor to pass through so that the substrate can continue to breathe, and any moisture that may be present can escape. This limits or prevents detachment of the paint layer.
Breathable wood paint from Moose Färg
In terms of color, Moose F gives full coverage, just like paint does. In terms of technical operation and wood protection, however, it is a stain. While the linseed oil in the paint provides a water-repellent layer, moisture that ends up in the wood can still escape. This prevents the paint from flaking and the characteristic and charming grain of the wood remains visible.
On the right or below you see the color Ljus Blå on a rougher plank of wood. The grains are still visible, but the color of the wood is completely light blue.
---
Why use Moose F?
Moose F absorbs into the wood. It does not form a film over the wood. The wood can continue to breathe.
A beautiful Swedish color palette with completely matte colors.
Moose F is water-based and contains no microplastics. An environmental, human and animal friendly choice.
Maintenance is very simple; simply clean and re-apply with a coat of Moose F. No sanding required for maintenance. Moose F is maintenance-free for an average of 5 years.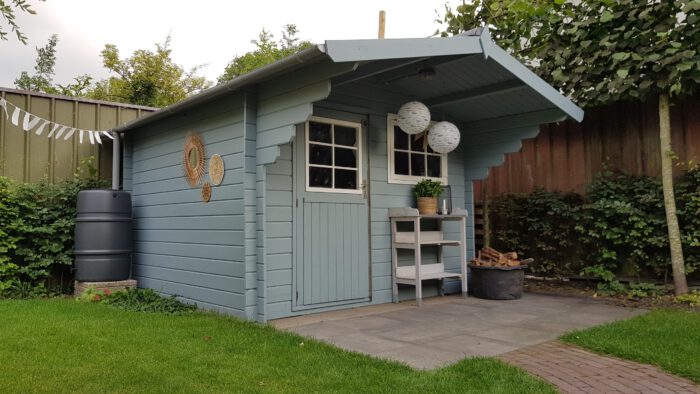 ---
Breathable matt paint for wood: easy to apply and maintain
The great thing about working with a breathable wood paint like Moose F is that painting itself is incredibly easy. You don't have to use any protection, since our products are completely safe. Brush marks disappear with the second layer, so you don't have to work too precisely.

It is always wise to pay close attention to the pre-treatment of the wood. Some people get to work enthusiastically with the paint and the result will initially be beautiful. That really doesn't mean that the paint was able to adhere well. We are happy to give you tips for good adhesion.
For fresh and impregnated wood

If wood is very fresh or impregnated, juices and resin will come out of the wood. This reduces the adhesion, which is why it is better to let fresh wood dry thoroughly first (this can take several weeks, sometimes a month). This is especially the case with impregnated wood.

If you would like to start painting immediately, we recommend that you first degrease the wood thoroughly, e.g. with linseed oil soap. Then paint only 1 layer and wait a few months with the second layer. This allows the impregnating salts to sweat out and acclimatize the wood to the outside temperature. After the second layer you are good for several years without maintenance.

A rough surface

A good penetration of the paint ensures good long-term adhesion. For Moose F to prenetrate into the wood properly, it must be somewhat rough. This is already the case with roughly sawn or weathered planks, with smooth planed planks it is highly recommended to sand them with a coarse grit (80) before painting.

Primer or primer is not necessary.

When repainting wood with an old paint, stain or oil coat

If your wood has been processed before, it is a good idea to inspect this layer and to process it if necessary. Our rule of thumb is: it must not be able to peel and it must not shine.

Painted wood: if the old paint coat is peeling, it is best to remove it. When the old layer is in good condition, you can sand down the lacquer layer to the base layer. Use a coarse grit so that the entire glossy film layer is removed and you also achieve a rough background.

Oiled wood: ensures that it is very well degreased. You can use soapy water with linseed oil soap for this.

Stained wood: usually a stain layer has already penetrated well into the wood, sometimes the beet layer does show 'flakes'. The easiest way is to spray the wood clean with a high-pressure sprayer. Pay attention to the spray position; you don't want to break the wood. You kill three birds with one stone: the stain flakes are removed, you clean the wood and the wood is roughened. An alternative to this is coarse sanding.

Let's get started!

The painting itself is lot's of fun, really! You don't have to be a professional painter to work with our Moose F.

Keep a mind that the temperature should be minimally 12 -15 °C. Dilute extra at temperatures above 25 °C. Stir the jar of paint briefly and dilute the paint for the first layer with 5-10% water.

It's easiest and quickest to paint with a (block)brush, since its hairs can effortlessly reach the cracks and grains of the wood. It is also possible to use a paint sprayer – in which case extra dilution with water is recommended.

Temperature and drying time

Let the first layer dry thoroughly. The drying time depends on the temperature and humidity. At a temperature of 20 °C, this is often approximately 6 hours.

After the second coat, the paint should not be exposed to heavy rain for 2 – 3 days. When not fully dry, the paint can absorb moisture again and become soft and, in the worst case scenario, rain off.

Consumption of Moose F

Two coats of paint is usually sufficient for a good opaque result. Sometimes you need three coats if the wood is very absorbent and with light colours. Do not apply more paint than necessary! This makes the paint more vulnerable.

Per liter of paint you can paint approximately 5 m² opaque – so two layers. This includes a margin of about 30%. New paint or very dry wood suck harder, then the damage is higher. Consumption is somewhat lower with already painted wood.
Brushes can be cleaned with water and some mild soap. Our linseed oil soap is very suitable for this.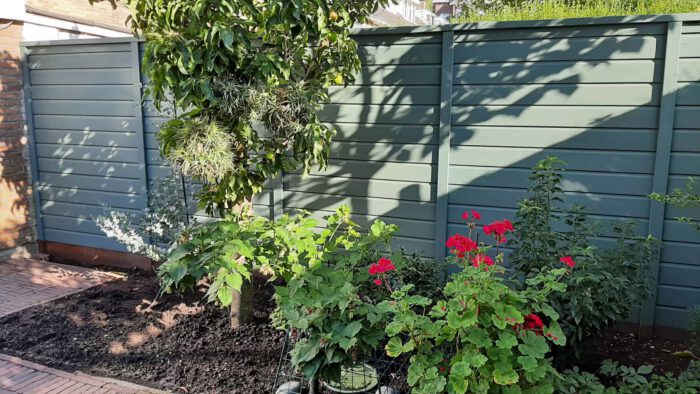 Maintainance
when applied coorectly, Moose F breathable wood paint does not flake so repainting and touching up is always possible. The durability of the result will depend on the circumstances, such as whether the timber is covered by a roof or not. The Dutch climate is more humid, though in Sweden the differences in humidity are a lot bigger. But even here it can last outside for years, 4 to 5 years for certain. In Sweden 20 years is known to be no exception.
Paint with an open breathable structure
Breathable matt wood paint Moose F is made of modified linseed oil (alkyd) but water dilutable, a "mayonnaise", an emulsion of oil droplets. Suitable for all wood; impregnated wood, planed and already stained wood. Also for inside: plaster, wallpaper, plasterboard, MDF and textured paint. Ideal for Red Cedar, oregon pine and heat-treated wood. Not suitable for metal (but does cover nails and screws). If you want to paint an already painted panelling, take a look at Moose RDM, this can also be a suitable solution. We recommend RDM wood paint for bargeboards, window- and doorframes, doors and furniture.
Moose F follows the age-old recipe but is reinforced with modified natural oils: alkyd. Moose F gives the real matt appearance we find in typical Swedish colors. It has a pleasant smell, is fully water dilutable and smears very easily.
It does not form a sealing film as ordinary film-forming (linseed) oil paint and "ordinary" paint, which contains acrylic resin, do. Therefore the surface 'breathes' so it does not give rise to flaking with expansion and contraction. This breathable paint is water-repellent and preservative; drops of water slide off.
Scandinavian wood paint colors
Moose Färg F breathable wood paint comes in beautiful natural colours :
All Moose Färg colors »
Would you like additional, personal advice?
We are happy to help. Send an e-mail or call +31(0) 6 55 333 165. Watch our Instruction Video for more information. Apply here for a free color-card.