Painting a garden fence | For all types of wood | Advice & inspiration
A wooden fence is usually a functional part of your backyard, with the aim of creating some privacy. That doesn't mean it can also look nice! It is also good to protect your fence against the weatherconditions so that the wood lasts longer. The breathable wood paint from Moose Färg is the ideal way to beautify and protect your fence.
Whether you are going to paint or repaint an old or new fence, with the products from Moose Färg painting is very easy and fun to do – yes really!
Completely matte Scandinavian colors.
Easy to apply with no brush marks or drips.
Long-term protection, very easy to maintain (without sanding!).
Environmentally friendly & water dilutable
Suitable for all types of wood, including larch, douglas fir, pine, red cedar and hardwood. Also for impregnated or previously painted wood.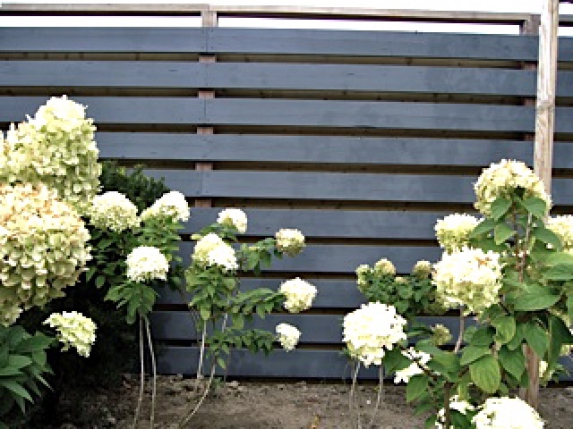 Order your Swedish fence paint Moose F for all types of wood
Fence paint: transparent, semi-transparent or opaque
Stain and paint are often used interchangeably when painting a wooden fence. The difference is that a stain penetrates deeper into the wood. In addition, stain is moisture-regulating (the moisture in the wood can escape through the stain layer) and the surface does not require a primer before the wood can be painted.

Our Moose F is a product that lies between paint and stain. It gives a beautiful opaque color like paint does, but also has the good property of stain that the wood can continue to breathe. Moose F absorbs into the wood so that the wood structure remains visible, but the wood color itself is not. The pigments in Moose F provide extra protection against weather conditions.

If you want not only the wood grain, but also the wood color to remain visible, you can opt for our semi-opaque-semi-transparent Dimma. The color of the wood then partly determines the end result. You can order Dimma in all our standard colours.

Our colorless, transparent stain Storuman Skydd brings out the wood grain and protects the wood, but otherwise leaves the wood completely as it is. Please note that this will not last forever when applying it on your outdoor fence. A transparent stain works like a sunscreen: after a while – usually a year – the UV block is absorbed and the sunlight will cause the wood to discolour.
Whether you opt for our opaque or (semi-)transparent stain, our products can be used for all types of wood. Both smooth, planed, rough blank, impregnated and already stained wood. Also suitable for other surfaces.
How to paint your wooden fence? Step-by-step plan
With our tips for painting your wooden fence, you get the result of a professional painter. Follow the steps below for best long-term results.
Painting new fence – what to do before painting

Wood types such as Douglas, fir, spruce and pine are often impregnated. It is best to leave freshly impregnated wood for a few months so that it can breathe and 'sweat out'. If you would like to paint immediately, degrease the wood well, lightly sand the planed wood (use a coarse grit, 80) and paint 1 layer. Then wait a few months with the second coat.

If your fence has not been painted or otherwise treated before, you can start immediately.

Repainting a painted fence – what to do before painting

If you have a fence that has already been treated with stain or paint, make sure that the underlying stain or paint layer does not peel. If you follow the steps below, the chance of peeling is very small.

Clean the fence well with, for example, Polarsken. This organic linseed oil soap is seen in Sweden as the best solution for cleaning surfaces to be painted and it gives your wood extra care due to the linseed oil in the soap. To clean the fence, spray it with a solution of water and Polarsken wood soap. Use a high-pressure sprayer to to easily remove a paint layer that's peeling off. This is usually sufficient for an old stain layer.

With an old lacquer paint it is good to sand thorougly with a coarse grit sandpaper (use grit 80). The bottom layer should no longer shine. Paint residues that have been sanded well and can no longer peel are no problem.

Sand smooth wood

If your wood is completely smooth, for example new smoothly planed wood, rough it up with coarse sandpaper (grit 80).

Painting your fence

Use Moose F to paint your wooden fence. With a bucket of 4 liters you can paint an area of ​​approx. 20-24 m² (2 layers). Two coats are usually enough to paint the fence completely opaque. This also depends on the suction power of the wood. In general, more paint is absorbed with the first layer than with the second layer. When you paint your fence white, we recommend applying a third coat.

Dilute the first coat of Moose F slightly with water and brush the stain onto the wood with a block brush.
When the first layer is dry to the touch, the second layer can be applied.

Drying of the paint

The first layer must be dust dry before applying the second layer. How long this takes depends on the temperature and humidity. This can differ from 3 hours in warm weather, to 1 day when it is below 15 degrees.

The same applies to drying. Your fence can be fully dry in 2-3 days in warm and dry weather, this can take up to a week at temperatures below 15 degrees. No rain should touch it until it's fully dry.
Products for painting a fence:
If you are not sure about which color to choose, you can order a paint sample first.
Practical info: painting a fence with Moose F
Opaque in: 2 layers (for white colors 3 layers).
Dilution: with water.
Painting temperature: day temperature above 15 °C, no maximum temperature (do dilute extra with water if warmer than 25 °C).
Recoatable (at 20 °C): within 6 hours .
Fully dried (at 20 °C): within 2-3 days .
Consumption: about 5 m² covering (2 layers) per litre Apply with: brush or spray.
Storage: frost-free, in a dry place between 5-15 °C.
Suitable for: all types of wood – including Douglas fir, pine, spruce, larch, red cedar, accoya, hardwood. Can also be used on concrete and brick.
Why Moose F for your wooden fence?
1. Longer durability of the wood. Moose F protects your fence against weather conditions, such as rain and sunlight. The wood can continue to breathe and moisture can pull out of the wood. Moose F is very suitable for softer types of wood (such as Douglas fir, pine, spruce, larch, red cedar) that shrink and expand under the influence of moisture. Unlike a lacquer paint that puts a film layer over the wood and peels with these wood movements, Moose F can 'move along' with the
3. Pleasant to use. Anyone can use this paint – promise! It spreads wonderfully, as if you put yogurt on your fence, and does not smell. Leaves no drips and you have an opaque result after 2 layers. Brush marks disappear automatically with the second layer.
4. Easy to maintain. On average, you are maintanance-free for 5 years after painitng. After these 5 years you just need to repaint one layer and this is very simple: you only have to clean with soapy water (use Polarsken linseed oil soap, for example). You do not need to sand or remove previous paint layers.
5. Unique Scandinavian colors. The Moose Färg colors seem to come to life; they can have a different appearance in different daylight. Because they are matt, they do not reflect sunlight and they have a calm appearance. When applying Moose F you get an opaque color, but the wood grain remains visible. With Dimma, the wood color is partly visible.
6. An environmentally, human and animal friendly product. The composition of our paint is very durable. Because you do not have to sand off old paint residues during maintenance, you do not bring any paint residues into the environment.
Fence paint colors: inspiration!
Moose F wood paint is available in various matt colors from the Swedish color palette. You even have the option of specifying the color you want ('customer colour', give your RAL or NCS code), and we will mix it for you.
Tip: When choosing a color online, keep in mind that the color may differ from the actual color due to your monitor settings. Take a look at the examples on our website or request a free color chart. This is hand-painted and displays the colors as they are. You can also order a sample of our standard colours.
There are 18 beautiful Scandinavian colors to choose from, we highlight some popular ones below:
Matt black fence paint
Matte black fence is insanely popular at the moment. The color Vasa Svart is a beautiful deep black due to the earth pigments that give the paint its color. Painting a fence black is recommended if you want to give your garden a more elegant look. The color black also works well in a garden with lots of greens and colored plants. A black fence is not recommended for small gardens because the color makes the garden look even smaller.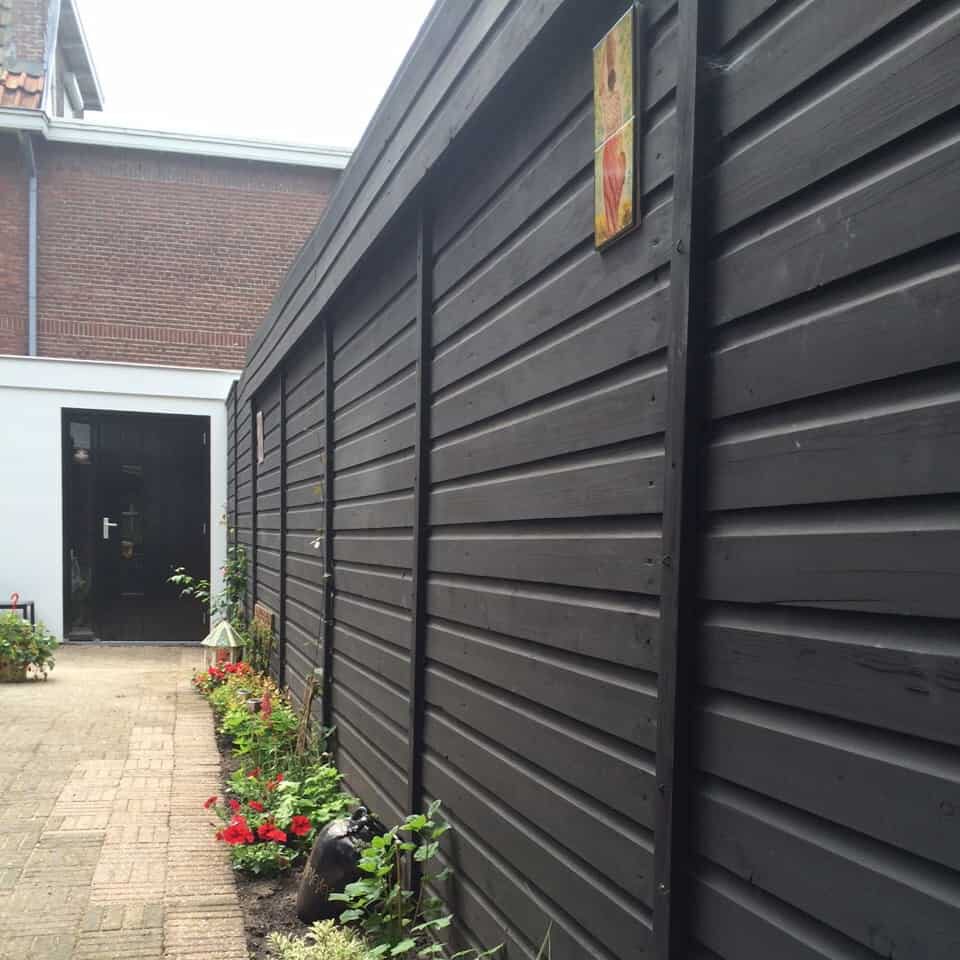 Paint your fence white
Many find a white fence pretty because makes your garden look bigger. A white fence is also very suitable for an Ibiza-style garden. In our white paint we offer two colours: Grädde is off-white (approximately RAL 9010), Norrland Vit is a true snow-white colour. When painting your fence white, please note that you often need an extra layer to get it opaque (3, instead of 2 layers) and that dirt is visible a bit quicker.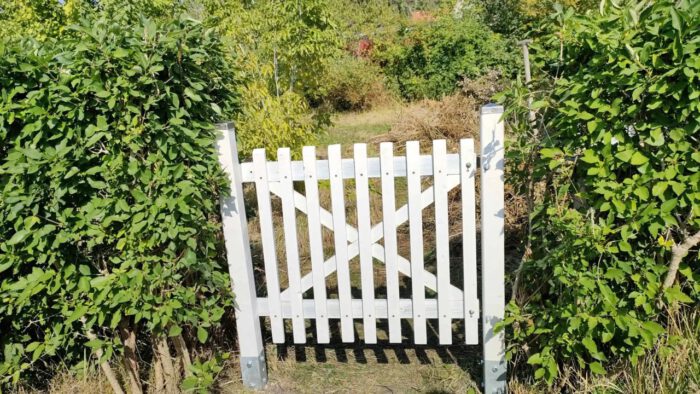 Grey fence paint
The gray color palette is very diverse and each shade of gray has its own ambience. A lighter, warmer color such as Kiruna Grå (pearl grey) gives your garden a completely different atmosphere than a cool, dark shade such as Blytungsgrå (Lead Grey). In general, the gray tones are nice when you want a more quit garden. Because Moose F is completely matte, this calm effect is further enhanced because – unlike a gloss paint – it does not reflect light. Depending on the other garden design, you can choose a lighter or darker shade of gray for your fence.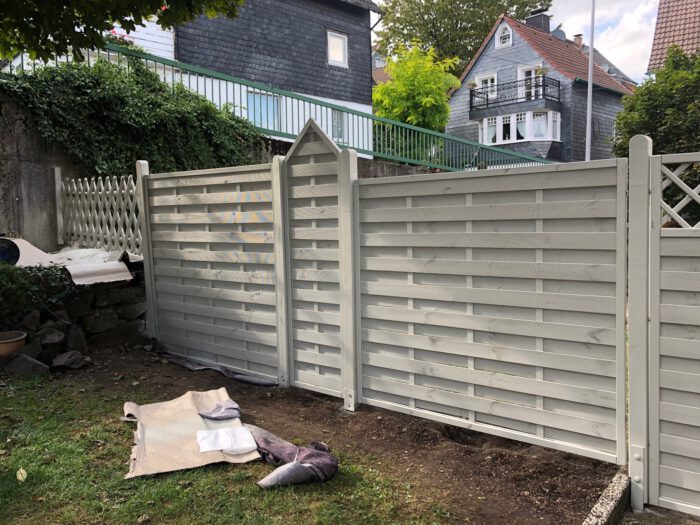 Colorstain for your wooden fence
It is not something for the faint-hearted, but a bright colored fence can bring a lot of ambience to your garden. Moose F is completely matte and does not reflect sunlight, so that the colors still have a calm appearance. Because our Moose F stain penetrates into the wood, the wood grain remains visible. This way you give your garden color, while retaining the feeling of a wooden fence.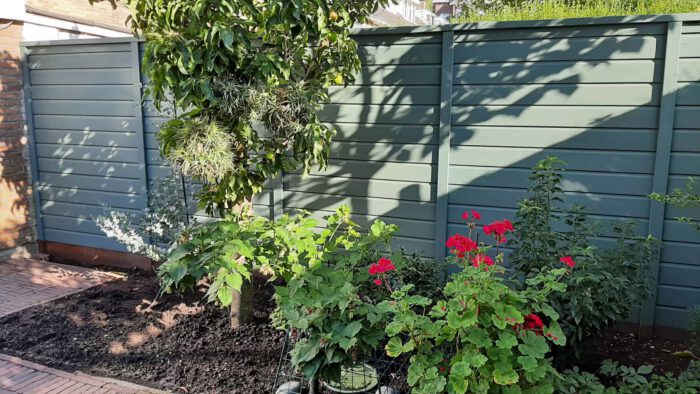 Wooden fence: maintanace after painting
Moose F is an outdoor fence stain that has been used for centuries in Sweden on the characteristic wooden houses there. The moisture-regulating character ensures that the wood continues to breathe, so that it stays naturally beautiful for longer. Moose F doesn't peel off, if properly applied by the steps above. The paint will soak into the wood without leaving a film on the wood.
Cleaning your fence
Generally you don't have to do any maintenance for about 5 years. If you want to clean your fence, you can do this with water or soapy water and possibly with a brush. Don't scrub too hard. With a black fence, white traces, such as cobwebs or white fluff, will probably be more visible more. Dilute some (linseed oil) soap with water in a plant sprayer and spray it on the stained wood. Let it soak in and let it rinse off by the rain or rinse with a garden hose. Use a damp cloth to remove any remaining spots.
Re-painting your fence
For maintenance, you only need to paint with Moose F once to make your fence last for years to come. Without sanding or scraping off the old paint layer! Clean well with soapy water and rinse with water, then brush a layer of Moose F over it. After this you usually have no maintenance for another 5 years. It's also possible to re-paint with another Moose Färg color.
FAQ on painting a wooden fence
Can I paint my fence with a paint sprayer?
Yes, toy can. Dilute the paint with water before spraying.
Do I have to impregnate my fence before painting?
By impregnating the wood, substances are added to the wood that extend the life of the wood. This mainly happens with types of wood that are naturally less durable, such as Douglas, spruce and pine.

If you use paint from Moose Färg, you do not need to impregnate. The paint can be applied directly to the wood of your fence, a primer is also not necessary. Moose Färg offers sufficient protection for your wooden garden house.
How many layers should I stain/paint?
Two coats are usually sufficient for an opaque result. White colors often require a third coat.
Can I paint/stain over green algae or wood fungus?
No, this is not a good idea. A layer over green algae can disrupt the adhesion of the paint or affect the quality of the wood (fungus). First clean your fence well, for example with a solution of Polarsken. If necessary, use a high-pressure cleaner. When your wood displays black spots of fungus, please consult us first.
Would you like additional, personal advice?
We are happy to help. Send an e-mail or call +31(0) 6 55 333 165. Watch our Instruction Video for more information. Apply here for a free color-card.