Moose F is originally wood paint, so it is an ideal indoor paint, like panelled ceilings and panelled walls. And … Moose F is also great for painting walls.  For an opaque result, you usually have to paint twice. Moose can be applied directly to the substrate which makes painting very easy. A primer is not necessary. Moose is its own primer … so you can immediately start painting with Moose Färg. On this page there are some suggestions for indoor paint.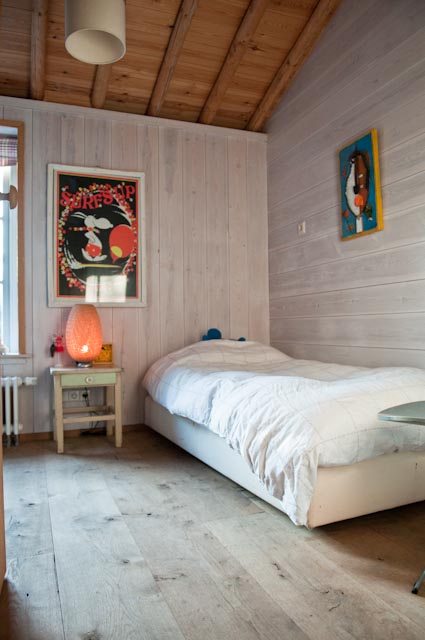 Childrens room with White was indoor paint Dimma Vit
Painting tips for substrates other than wood
Wallpaper and  textured paint and such are revived when painted with Moose Färg, and the colour effects are stunning. Unlike for instance latex, the structure of the surface remains totally visible. It has a beautiful matte appearance, much matter than lime paint and chalk paint. Moose Färg F is also very smudge-free. Scrubbing though, is asking for too much; don't do it.
Light stucco walls will become very beautiful with Moose Färg indoor paint. Using a so-called primer-sealer or insulation paint helps to prevent the stucco from sucking too much in, which avoids unnecessary work (moreover, this is also recommended for other types of paint).
Clay, plasterboard and ceramics are also an excellent base for all types of Moose F paints. For instance flower pots, or an indoor clay wall.
Moose Färg RDM gives doors a beautiful chalky matt finish,  slightly matter than lime paint or chalk paint. Always use a brush and make sure the paint gets the chance to dry properly afterwards. Also see to a proper preparation before painting: cleaning for example with Polarsken linseed oil soap and rough sanding the surface.
For floors and stairs Moose Färg F is not really suitable because it is not resistant to abrasion. Still, it is nice to provide a surface with some colour and then TOPP varnish can be used as a topcoat. Moose F does not do well on smooth, hard surfaces like shiny walls.
On flat surfaces, use a sheepskin roller,  that is the fastest and gives an even result.  If a 'sloppy' effect is desired,  a block brush or a stippling brush are an option. Furniture requires a normal brush.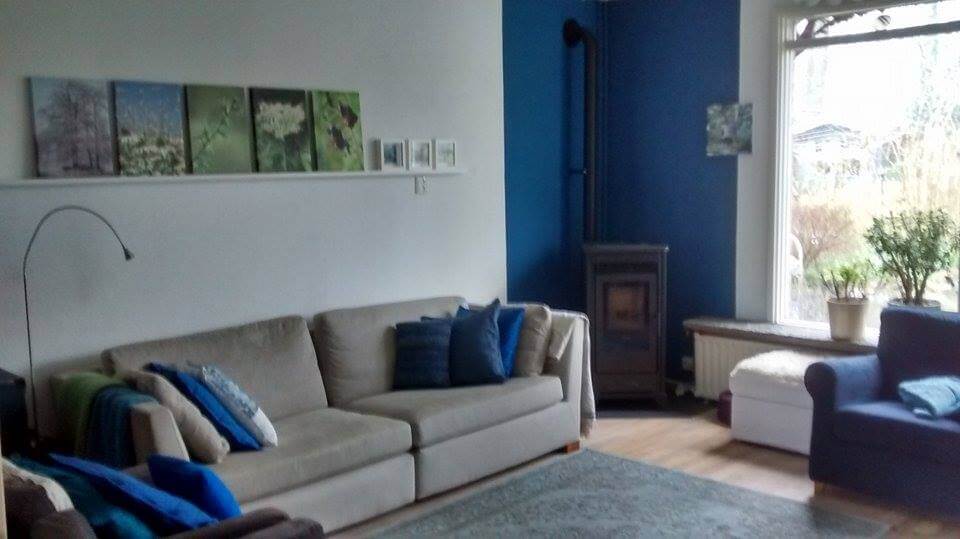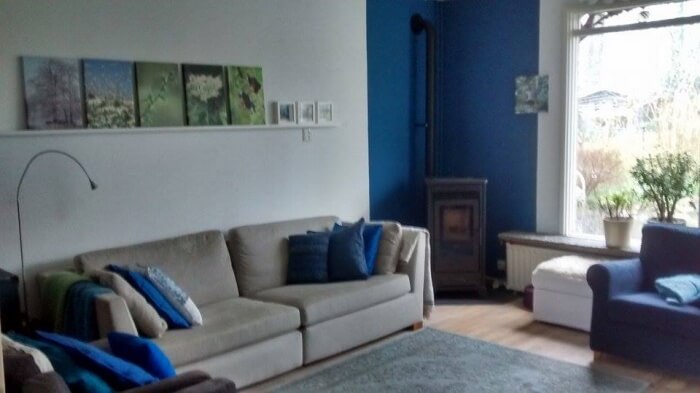 Living room with Norrland Vit and Sommarblå Moose F
Drying Time indoor paint
Temperature and humidity play a big part in the process of drying. Moose Färg is quickly dust-dry and looks good to the eye, but it still contains a bit of moisture. The paint must be fully hardened for further use. At room temperature, this will take about a week.
Storage and cleaning
You can easily remove Moose Färg from your hands, clothes and brushes by rinsing with water and using a little soap, for example Polarsken. Do this as soon as possible . If the paint has dried up, it is hard to remove, but when it is cleaned immediately, it is done easily.
When unopened, the shelf life of Moose Färg  is at least one year. Store the paint at a low temperature, but above 5 ° C. The paint should absolutely not freeze ! Opened and used it is important to preserve the paint at a low temperature because the bacteria,  which get in as soon as the paint is used, like linseed oil and natural starch, so interesting fungal cultures may arise. The colder the better, but always above 5 ° C. Below that temperature , the paint will damage, especially when it freezes .
When painting, it is recommended to fill a jar with paint and dipping in the brush. This prevents bacteria from getting in the paint, growing there and eventually damaging the paint. Finally, it is of course a natural product, so the little creatures love the wheat flour and linseed oil.
You want to order directly? Click here