Moose Färg , the ideal paint to paint outdoor shed and protecting your log cabin.
Good and regular maintenance is required to enjoy your garden shed as long as possible. UV rays, temperature fluctuations, rain and wind can really harass a wooden shed. This causes the wood cells at the surface to die down, which accelerates the ageing of the wood. Because the woods own oil disappears, the wood gradually gets stiffer. This increases the risk of cracking and even breaking. Therefore, many people choose to paint their garden shed with Moose Färg paint.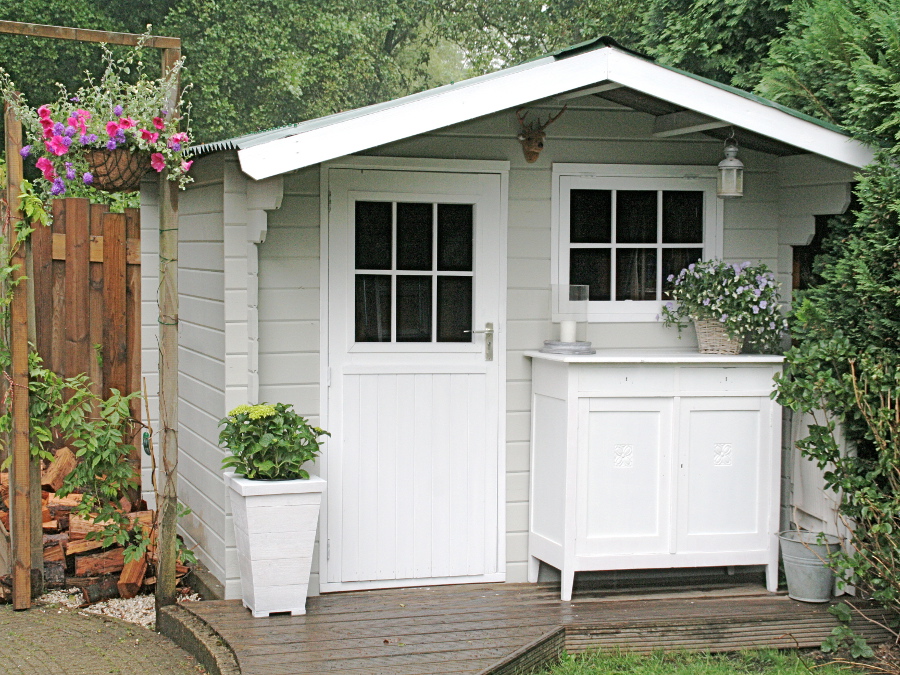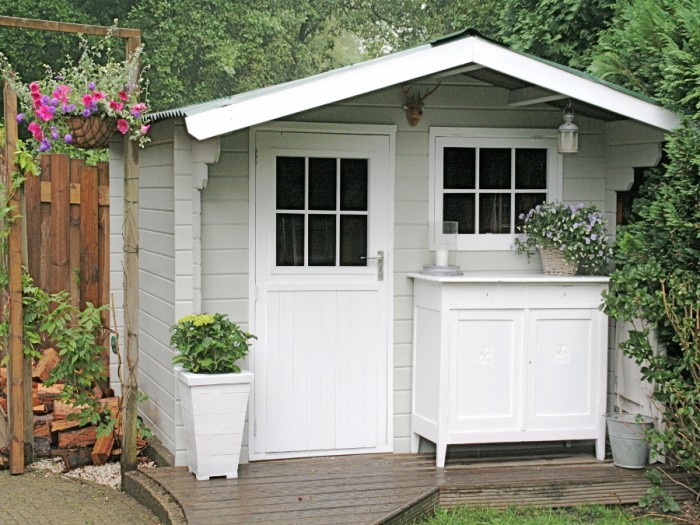 Paint outdoor shed , Kiruna Grå with Norrland Vit
How to paint your outdoor shed with Moose Färg
The walls of an outdoor shed are often made of spruce or pine , whether or not impregnated or wolmanised. These have to be degreased with Polarsken natural linseed oil soap before painting. New wood has to be sanded with coarse grained sandpaper.
An existing coating, which is still in a healthy condition has no cracks and is not flaking. It is of great importance that the substrate underneath does not flake either. So, the substrate has to be checked thoroughly, and on places where it is flaking, all loose paint has to be removed completely. Use coarse grained sandpaper to make the old paint on your garden shed free of sheen. Sand in the direction of the wood fiber and remove the dust afterwards with soapy water. Allow the wood to dry and then roughen it slightly again, so that the protection system will adhere perfectly afterwards.
Order Moose Färg paint directly? Click here
Paint outdoor shed: types of Moose Färg paint
You want to paint your garden house with opaque matte colours? Moose Färg paint Moose F for your garden shed still showcases the wood grain and does not form a film on the wood. This garden shed paint ensures longer protection and requires less maintenance.
The transparent colourless Moose Färg paint for the inside of outdoor garden sheds, Storuman Skydd, keeps the wood grain completely visible and has no colour. The garden shed gets a natural look, but requires more maintenance if applied outside on the sunny side. This transparent 'sunscreen' has to be refreshed regularly.
Semi-transparent paint is a kind of 'wash': Dimma , which gives the wood a tinted haze. A complete opaque paint is also an option for a garden shed : Moose F. The wood grain remains visible, because Moose Färg is not a varnish but it works itself into the wood and really brings out the structure of the wood of your garden house. Wood stays wood!
Want to try Moose Färg colour combinations ? Create your own Moose Färg colour combinations ..